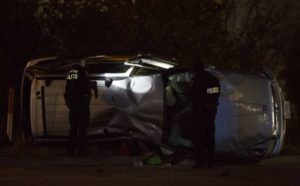 Early Tuesday morning, the eastbound frontage road of Beltway 8 was closed due to a fatal crash.
The wreck happened on Beltway 8 at Fondren around 4:30 a.m. According to Houston police Lt. Larry Crowson, the SUV was traveling northbound on Fondren and t-boned the other vehicle, which was traveling eastbound on the Beltway 8 feeder road. The impact of the collision caused the vehicle to roll over. One man was found dead inside the overturned vehicle.
It is unclear which driver ran the light. The surviving driver remained at the scene and is working with the police. The victim's identity has not been released.
The crash remains under investigation and police reports will be made available in ten days.
If you or a loved one were involved in a car accident, it is important to contact a car accident attorney to help you evaluate your options. Call (713) 987-7111 or send us an email to discuss your car accident injury case.
Source: Houston Chronicle
If a family member would like the name of a person removed for any reason, please click the "Remove Post" link. REMOVE POST