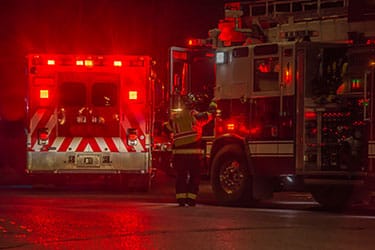 Guadalupe County, TX (11/12/2019) – Two women were killed in a two-vehicle collision early Saturday morning in Guadalupe County.
The accident occurred on State Highway 130 around 1:10 a.m. when a woman driving a Ford F-150 pickup truck in the wrong direction on the toll road collided into a Chrysler 300.
According to the Texas Department of Public Safety Sgt. Deon Cockrell, the driver's side front of the truck collided with the driver's side front of the other woman's car. The pickup truck then veered off and erupted into flames.
The woman in the pickup truck was severely burned and died at the scene. She was identified as 25-year-old Nicole Salazar.
The second driver, 45-year-old Trina Crump, was also killed at the scene.
The passenger riding in the second car suffered injuries and was transported to South Austin Medical Center.
Crash investigators will review all factors that may have led up to the accident and police reports will be made available in fourteen days.
According to the American Burn Association, burn victims make up over 700,000 trips to the hospital emergency rooms each year and of those visits over 45,000 of those individuals require hospitalization. Common causes of burn injuries are: faulty wiring or plumbing, auto accidents, defective automobiles, unsafe workplaces, poorly maintained smoke alarms or residence lacking the devices, and defective products.
Whether the burn injuries are the result of an explosion, electricity, acid or fire, you or your loved one will need experienced legal representation. At Sutliff & Stout, our Houston injury lawyers have the experience and resources to help you and your family in this difficult time.
If you were injured during a fire, call personal attorneys Sutliff & Stout at (713) 987-7111 or send us an email to discuss your case.
Source: Seguin Gazette
Our deepest condolences go out to the families of the victims of this horrible incident. If a family member would like the name of a person removed for any reason, please click the "Remove Post" link. REMOVE POST