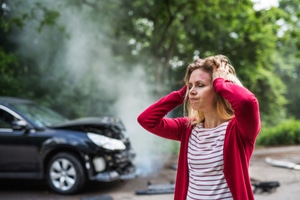 More and more Americans are leasing their vehicles rather than buying them. Approximately 30 percent of drivers leased a vehicle in 2019, marking a new all-time high for the vehicle leasing market. Leases are attractive to those who want low monthly payments and the ability to switch cars every few years. While driving a leased vehicle can be an enjoyable experience, drivers need to be extremely cautious on the roads since they don't technically own the vehicle.
As vehicle leasing grows in popularity, there are some unique considerations regarding car accidents that Texas drivers need to be aware of. While the claims process for recovering damages and losses after a car accident is the same, certain nuances associated with leased cars make a competent Texas car accident attorney essential. Not following the proper steps post-accident can result in excessive financial penalties. If you wreck your leased vehicle in Texas, be sure to follow these four steps.
We want to help you too.
Submit the short form below to get a free case review.
Notify the Authorities
Car accidents happen in the blink of an eye, and it's natural to feel disturbed and shocked post-accident. As with any accident, your health is the most important thing to think about first. Make sure you and any other passengers in your vehicle are okay. Then, assess the medical condition of those in the other vehicle. Emergency medical personnel should be called immediately if injuries are severe. If you only sustained minor wounds, you should still receive a thorough examination from a doctor to ensure you don't have any internal complications.
If you haven't sustained any injuries, you may still need to call the police. Under Texas law, drivers must notify the authorities if property damage to one or all of the vehicles involved is $1,000 or more. Authorities can help safeguard and investigate the accident scene, as well as call for emergency medical assistance. Not only can the police help sort things out, but their findings can be helpful to your car accident claim.
Document the Accident Scene
As soon as it's safe to do so, start taking pictures and videos at the scene of the accident. Try to take long shots of the general accident area and close-ups of all vehicles involved, including injuries, damages, and license plate numbers. Other pieces of evidence you should collect from your accident include:
Location, date, and time of the accident
Witnesses and traffic surveillance
Road and weather conditions
Drivers' names, insurances, and licenses
Officers' names, badge numbers, and agencies
The evidence you collect will be the foundation of your case. The more detailed evidence you obtain to support your injuries and losses, the more likely you are to secure a meaningful car accident settlement.
Report the Accident to Your Insurance
Since Texas is an at-fault state, you can file an insurance claim against the at-fault driver to recover your damages, including medical bills, lost wages, or property damage. Keep in mind that this might not be enough to cover your losses. You'll need an experienced attorney to calculate the value of your claim and build a strong case to recover full compensation.
Often, car leases require you to maintain a certain type of car insurance. In Texas, drivers must hold the following insurance coverages:
$30,000 for bodily injury liability per person
$60,000 for total bodily injury liability per accident
$25,000 for property damage
Although Texas law only requires basic liability coverage, your leasing company may ask you to hold collision and comprehensive coverage. In addition, your leasing company may require you to purchase gap insurance, which helps drivers pay off the difference between the value of the vehicle and the balance on the lease if the car is totaled or stolen.
Contact Your Leasing Company
After reporting the car accident to your insurance company, don't make any repairs to your vehicle until you notify your leasing company or the dealership where you leased your vehicle. Review the terms and conditions outlined in your lease contract to identify what you're legally required to do after the accident, and make sure both your insurer and leasing company are on the same page about repairs.
Most leasing companies and dealerships put specific parameters on how you can get your vehicle repaired, even if the accident wasn't your fault. Specifically, some car leases prohibit the use of aftermarket parts to be put on your vehicle, or the lease may require that the repair is performed at a specific service location authorized by the company or dealership. Failing to follow the terms on your lease contract could result in a serious financial penalty when it comes time to turn in your car. Therefore, the best thing you can do is stay in constant communication with your leasing agent and have them tell you what to do.
Connect with an Experienced Houston Car Accident Attorney Today
Car accidents involving leased cars can be complex, but your right to compensation is no different than any other type of accident. If you've endured significant vehicle damage or sustained injuries, you must act immediately to ensure you are within Texas's statute of limitations. Be sure to follow the above steps and contact an experienced car accident attorney in Houston to protect your rights.
The team of Board-Certified car accident attorneys at Sutliff & Stout is here to help you maximize the value of your car accident case, giving you peace of mind so that you can concentrate on healing. We strive to provide you with the exceptional legal services and personalized attention you deserve to successfully secure meaningful compensation that covers all your current and future losses. To connect with a dedicated car accident attorney, call (713) 987-7111 for a free consultation or complete a contact form.