Archer County, TX (2/3/2021) – A four-vehicle wreck left one person killed Wednesday evening.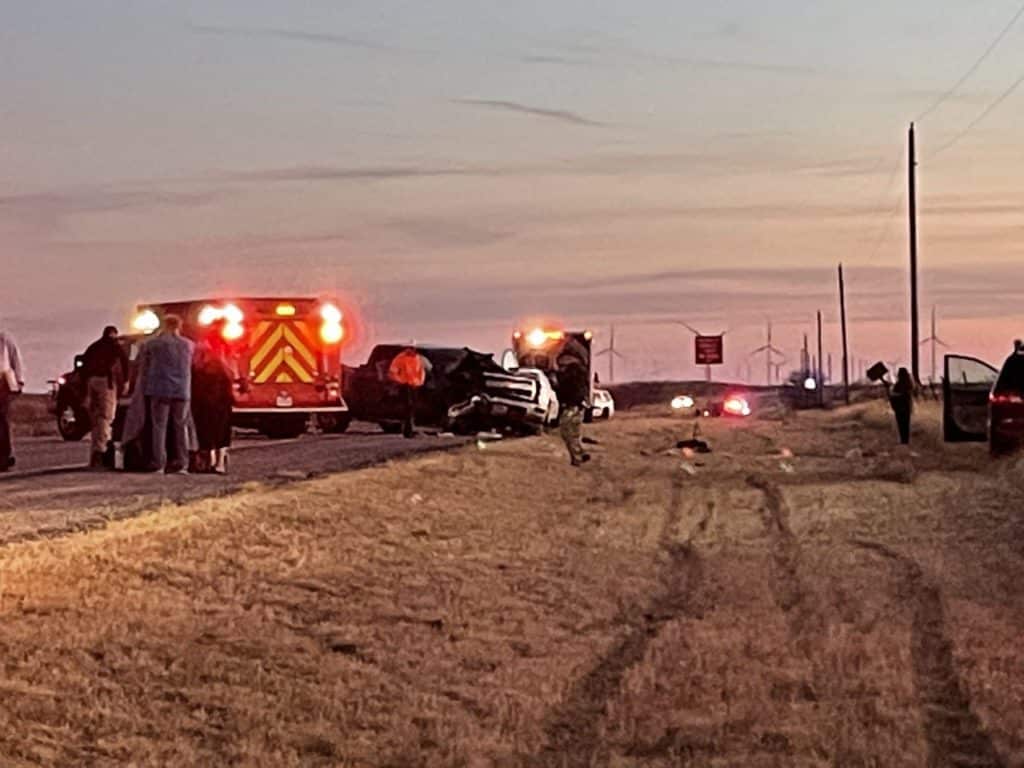 The accident happened around 5 p.m. on Highway 79 near Archer City. A Dodge Ram towing a trailer on Highway 79 was followed by a Chevrolet pickup and a 2012 Hyundai while a Toyota Sienna was headed north.
The trailer attached to the Dodge Ram lost its left tandem wheels and tires, causing them to drift into the northbound lane. The Sienna attempted to avoid hitting the tires, but then over corrected to the left and lost control and began to side skid into the southbound lane, striking the Chevrolet head-on. As the Sienna and Chevrolet collided, the Hyundai crashed into the rear of the Chevrolet.
Four people were injured. The driver of the Sienna was transported to United Regional with serious injuries. An occupant in the backseat of the Sienna was also taken to United Regional with serious injuries. The driver of the Chevrolet was transported with non-life threatening injuries.
One person was killed at the scene. He was identified as 30-year-old Thomas Paul Gonzales.
The driver of the Dodge Ram was not injured.
Crash investigators will review all factors that may have led up to the accident and police reports will be made available in fourteen days.
Wrongful Death Lawyers
Due to the nature of this accident, and the fact that one person was killed and four others were injured in a four-vehicle crash, a substantial crash investigation will be conducted. This involves conducting interviews, contacting witnesses, and bringing in Accident Reconstructionists to recreate the collision.
From there on, contacting an attorney at Sutliff & Stout may be of best interest following an accident such as the one above. An attorney can deal with insurance adjusters for you, negotiate settlements, and represent your best interests if a lawsuit is needed. If you or a loved one were involved in a car accident, immediately contact a legal expert to help you evaluate your options. Call car, truck, and motorcycle accident attorneys Sutliff & Stout at (713) 987-7111 or send us an email to discuss your car accident injury case.
Source: Texoma Homepage 
Our deepest condolences go out to the families of the victims of this horrible incident. Please click the "Remove Post" link if you would like this post removed. REMOVE POST