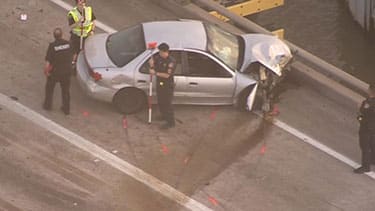 Harris County, TX (June 27, 2019) – The I-10 East Freeway was closed heading westbound after an 18-wheeler went off the bridge into the San Jacinto River in east Harris County.
The truck accident happened around 3:45 a.m. on Thursday. According the authorities, a deputy stopped to help two men from a prior wreck.
Approximately at 3:30 a.m. an 18-year-old driver and 23-year-old passenger, both males, in a Chevrolet Cavalier was involved in a hit-and-run accident with an 18-wheeler.
The crash caused the vehicle to spin from the eastbound lanes into the westbound lanes. The deputy was talking to the two men when the oncoming semi-truck collided with the Cavalier.
The truck driver hit the disabled vehicle. The driver over-corrected, hit the guardrail, and plunged into the San Jacinto River. The river is 20 to 30 feet below the bridge.
Reports indicate the cab of the truck was fully submerged and the trailer was partially submerged. Authorities do not know if the driver was able to make it out or how many people were inside the cab of the truck.
The men in the Cavalier and the deputy were not injured. The men were not impaired during the initial collision and continue to cooperate with the investigation.
If you or a loved one were involved in a truck accident, it is important to contact a legal expert to help you evaluate your options. Call (713) 987-7111 or send us an email to discuss your car accident injury case.
Source: KHOU
Our deepest condolences go out to the families of the victims of this horrible incident. If a family member would like the name of a person removed for any reason, please click the "Remove Post" link. REMOVE POST