Update: Three people have passed away as a result of the wreck. They have been identified as three children: two teenagers and one 12-year-old boy.
San Angelo, TX (3/18/2021) – A fatal hit-and-run left two people dead on Thursday.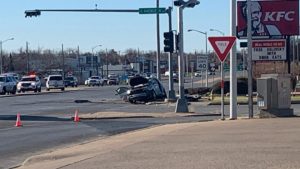 The accident happened shortly after 6 a.m. when a gray SUV ran a red light at the intersection of W. Ave N and S. Bryant Blvd. As the SUV ran a red light on S. Bryant, a light-colored SUV came along on Ave N. and t-boned the SUV. The light-colored SUV fled the scene.
Two of the four passengers in the gray SUV were killed at the scene. The other two are being treated for injuries. The driver was ejected and taken to the hospital. 
Crash investigators will review all factors that may have led up to the accident and police reports will be made available in fourteen days.
Hit-and-Run Accidents
T-bone car accidents, also known as side-impact collisions, can cause drivers and passengers to suffer severe injuries. These accidents are unique because unlike other types of collision, such as rear-end or head-on collisions, victims of T-bone collisions are only separated from the colliding vehicle by a thin door and window. For the case above, following the T-bone collision, one of the vehicles fled the scene.
In Texas, if you were involved in a hit and run and you are unable to locate the at-fault driver, you can make a claim against your UM/UIM insurance carrier. However, before your insurance company will pay the claim, you must prove that you were actually struck by another vehicle. If you cannot make this showing then your insurance company is not legally obligated to pay under your policy.
If you or a loved one has been injured or killed in a hit-and-run car accident, the Houston car accident lawyers at Sutliff & Stout can help. Our experienced personal injury attorneys represent Texans in civil lawsuits against negligent drivers and will work hard to get you the compensation you deserve.
Source: San Angelo Live!, KTXS
Our deepest condolences go out to the families of the victims of this horrible incident. Please click the "Remove Post" link if you would like this post removed. REMOVE POST