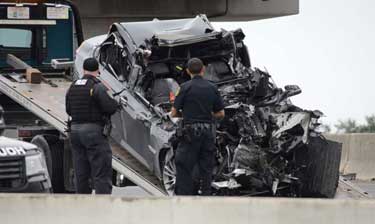 HOUSTON (October 17, 2018)– Tuesday afternoon Khurram Ibrahim, 43, host of the Houston-based TV series Cricket World passed away in a fatal car accident that occurred at 6200 Southwest Freeway (U.S. Highway 59 South) about 12:45 p.m. on Tuesday, October 16th.
According to the Texas Department of Transportation, Mr. Ibrahim was driving a four-door BMW 750Li heading southbound when he failed to control his speed and crashed into a stalled 18-wheeler on Southwest Freeway between the Westpark and Harwin exit. The sedan went under the 18-wheeler's trailer. Mr. Ibrahim died on the scene.
Reports indicate the tractor-trailer pulled over because of an earlier collision with an Oak Farms dairy truck overturned and another vehicle on the highway. The driver of the 18-wheeler finished placing traffic cones around the truck when the BMW crashed into the stalled trailer. The accident caused a 10-mile traffic jam on Southwest Freeway up to four hours.
Mr. Ibrahim was identified by his friend and co-host Dr. Kashif Ansari. The men hosted the show Cricket World through a Pakistani cable channel TVONE for nearly four years.
If you or a loved one were involved in truck accident, it is important to contact a legal expert to help you evaluate your options. Call (713) 987-7111 or send us an email to discuss your car accident injury case.
If a family member would like the name of a person removed for any reason, please click the "Remove Post" link. REMOVE POST
Source: Houston Chronicle