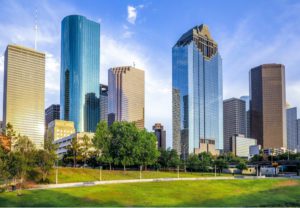 In a fight to lessen the spread of the deadly coronavirus known as COVID-19, Houston residents are under orders to stay home. Houston Mayor Sylvester Turner and Harris County Judge Lina Hidalgo approved the Stay Home, Work Safe order that went into effect on March 24.
The Stay Home, Work Safe order addressed more than 4.7 million residents in Harris County and permits residents to leave their homes only for essential activities, as listed in the U.S. Department of Homeland Security's Guidance on the Essential Critical Infrastructure Workers, and religious services. The order allows residents in the third-largest county in the nation to patronize these essential businesses as long as social distancing guidelines set by the Center for Disease Control and Prevention are followed. For example, six feet of distance must be observed between each person, and gatherings of ten people or more are not permitted. The order was initially due to expire on April 3 but has since been extended until April 30.

While positive coronavirus cases continued to increase by the thousands across The Lone Star State, Texas Gov. Greg Abbott issued an Executive Order on March 31 that ordered Texans to stay home until April 30 and subsequently closed public schools until May 4. The order added that residents "shall, except where necessary to provide or obtain essential services, minimize social gatherings, and minimize in-person contact with people who are not in the same household."

As of Monday, April 6, the number of positive COVID-19 cases in Texas has climbed to 6,845, with the majority being in Harris County, totaling at 1,284.
To read the official Harris County Stay at Home, Work Safe Order, visit: https://www.readyharris.org.
Critical Points of Harris County's Stay At Home, Work Safe Order
When did the order go into place?
The Harris County order went into effect on March 24 and was extended on April 3. The statewide Executive Order from Gov. Abbott went into effect on March 31.
When will the order be lifted?
Currently, the countywide and statewide order is scheduled to end on April 30.
What are the violations and penalties associated with the order?
Violators in Harris County can be charged with fines up to $1,000, 180 days of jail time, or both.
What kind of order is it?
Harris County is under the Stay Home, Work Safe order issued by Houston's mayor and a Harris County judge; the state of Texas is under the governor's Executive Order.
What are the essential businesses?
Businesses include community-based government operations, public safety, healthcare providers, and essential retail businesses like grocery stores, gas stations, warehouse stores, and more.
The full list of essential businesses that will remain open can be found by visiting here.
Schedule a Free Case Review with Sutliff & Stout
Sutliff & Stout attorneys stand by the Houston community through these unprecedented times of uncertainty. Our mission as personal injury attorneys is to make the communities that we serve safer. One way that we stand by our mission is to provide helpful research and information that helps bring awareness of specific laws to the communities we serve, like the Stay Home, Work Safe order. As an essential service, our offices remain open as we continue offering customized and compassionate legal counsel to those injured and in need.
To schedule your free case review, call or text our office at (281) 942-8694 or complete an online contact form today.