If you have been injured by a poorly designed, manufactured, or marketed product, Houston product liability lawyers at Sutliff & Stout can help you determine the cause of your accident and who should be held responsible. We help people all over Texas with their legal claims and secure them the maximum amount of compensation they deserve.
Product defects are usually put into one of three categories: design defects; manufacturing defects; and marketing defects, which can include inadequate warnings or insufficient instructions. Defective products can cause serious personal injury and even wrongful death. In the event that a product liability exists, you need a Defective Product Attorney that will use their expertise and be aggressive in seeking compensation for your personal injury. Sutliff & Stout takes pride in devising creative, winning product liability strategies and putting them to work on your behalf. Contact us today for a free evaluation.
When you pursue a product liability case, several things have to be proven. For instance, to recover damages for a design defect case, you have to show:
That the product design defect was a factor in producing the injury or damage; and
That there was an alternative design would have been safer.
Our firm handles a variety of product liability cases, including claims relating to tire defects and vehicle defects.
We want to help you too.
Submit the short form below to get a free case review.
Houston Tire Defects Lawyers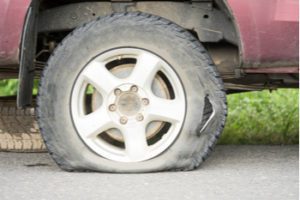 Tire defects are often the root cause of car accidents, SUV rollovers, and van rollovers in Houston, Texas. According to the National Highway Traffic Safety Administration, 11,000 tire-related crashes occur on American roads every year. In 2015, this led to 19,000 injuries, and in 2017, 738 deaths.
Tread or Belt Separation
The most common form of tire defect that dramatically increases the likelihood that you will be in an accident or a rollover is a tread or belt separation. When a tire suffers a tread separation, a vehicle often becomes unstable and uncontrollable.
Faulty or inadequate tire design or negligent manufacturing of tires can cause tread separation. Various methods have been developed to combat this defect—such as belt wedges and nylon overlays—but some companies refuse to incorporate these safety features because they want to put profits over safety.
Bead Failures
Inflation pressures are recommended for brand-new tires and if a tire is filled to those recommendations after the tire has been in use for a while, it can actually be overinflated. A defect in the bead wire, combined with an overinflated tire, can cause serious injury or death.
Sidewall Failures
These are sometimes referred to as zipper failures and can cause a tire to explode while it is being inflated, which can injure persons near the tire at the time.
If you or a loved one has been involved in a serious car accident in Houston stemming from a tire defect, the consequences can be devastating. Initially, it may not be obvious that a tire defect contributed to the accident. But by contacting Sutliff & Stout, we can hire the right experts to help you determine the various causes of the accident and whether a defective tire played a role.
When it is determined that an automobile defect or tire defect contributed to the accident, our Houston product liability lawyers can help you determine how to move forward. In certain cases, we may be able to hold the tire manufacturer, automobile manufacturer, or other responsible parties accountable in a product liability lawsuit. When faced with a lawsuit, these big businesses will try to pass the buck and leave you stranded. The attorneys at Sutliff & Stout are willing to do what it takes to make sure that the right parties are held responsible and pursue any possible compensation to cover medical expenses, pain and suffering, disability, lost income, lost prospects, and/or punitive damages. Contact us today for a free initial consultation.
Houston Defective Vehicle Lawyers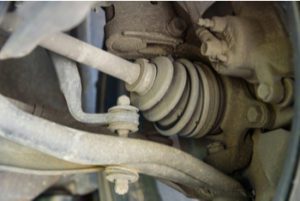 The law recognizes that consumers have a right to expect that their car will keep them reasonably safe in the event of a car accident. This is known as being crashworthy, which is the legal requirement for a car manufacturer to design and build a car that will prevent or mitigate injuries to vehicle occupants during a collision. For instance, a vehicle is supposed to be designed in a way that the structural support system creates a "survival space" that protects the people inside from roof crushes during a rollover.
In addition to expecting that our vehicles will keep us safe, we also assume that our vehicles will not be responsible for causing a product failure accident in Houston. Unfortunately, auto defects are responsible for thousands of car accidents, personal injuries, and deaths every year.
There are a variety of vehicle defects that can cause or aggravate an injury when a person is involved in an accident. Improperly designed roofs can cause death or paralysis when the roof structure comes down on the occupants of the vehicle; improperly designed fuel tanks can cause a vehicle to catch fire during a collision; faulty seatbelts can release during a rollover causing occupants to be thrown from the vehicle; and SUVs with too high of a center of gravity can cause a vehicle to rollover.
Houston defective vehicle lawyers at Sutliff & Stout are devoted to helping injured people and their families in Texas. Some common automobile defect claims arising from:
SUV Rollover
Roof Crush Injuries
Child Safety Seat Failure
Defective Airbags
Seat Belt Injuries
15-Passenger Vans
Car Fires, Van Fires & Ford Vehicle Fires
When faced with the aftermath of a car accident, you want someone who will understand your case, who utilizes the best experts to identify the cause of your accident, and the determination and expertise to navigate the legal system successfully on your behalf. Contact Sutliff & Stout today to have an experienced attorney provide a free consultation.
Resources: