Houston, Texas (Sept. 19, 2022) – A four vehicle crash, including an 18-wheeler, has left one person dead. Police are reporting that a vehicle crashed into the backside of an 18-wheeler, which then caused the vehicle to burst into flames. Officials say the driver of that vehicle died at the scene.
According to reports, the vehicle was traveling at a high rate of speed prior to the collision. The crash happened near I-10 and Washington Avenue at roughly 2:30 a.m..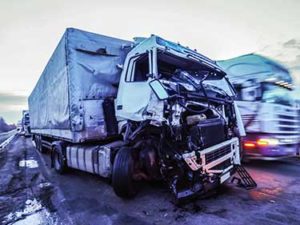 After the car struck the 18-wheeler, a pickup truck struck the car, a wall, and an additional vehicle. No other injuries are being reported as a result of the initial collision.
Texas Speeding Lawyers
Thousands of individuals are hurt in high-speed car accidents each year. Despite the knowledge that speeding is dangerous, speed remains one of the leading causes of car accidents. Speeding not only increases the likelihood of crashing but also substantially furthers the risk for catastrophic injuries or death among victims.
Annually, 13,000 people die after sustaining catastrophic injuries in car accidents caused by speeding drivers. Often, those who survive live with debilitating injuries that require long-term medical care, assistance, and treatment.
At Sutliff & Stout, we'll enlist all our internal and external resources to build your case and craft a winning strategy. We believe there is no excuse for speeding, which is why we work hard to bring justice to those who have been wronged. When you contact us after an injury, our priority is to be of valuable service to you. Request your free, no-obligation consultation with one of our injury lawyers by calling (713) 405-1263 or completing our contact form today.
Source: Houston Chronicle
Our deepest condolences go out to the families of the victims of this horrible incident. Please click the "Remove Post" link if you would like this post removed. REMOVE POST