Mont Belvieu, TX (3/22/2021) – A man is dead and another is injured after being involved in an industrial accident in Chambers County on Monday.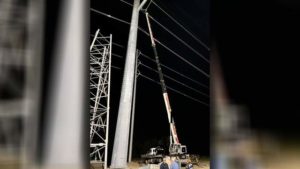 The accident happened near FM 1942 and Hatcherville Road around midnight. According to officials, two linemen were working on a high voltage transmission line when the lift basket attached the crane separated. The lift basket and the two men fell 106 feet.
One of the linemen was pronounced dead at the scene.
The second lineman was taken to the hospital via LifeFlight.
Industrial Accident Lawyers Sutliff & Stout
While the cause of the accident is unknown, it was reported that this accident was labeled as an industrial accident. These types of accidents usually occur while workers are on duty. According to the Bureau of Labor Statistics, in 2004 there were over 4.2 million job-related injuries and illnesses and over 5,700 on the job fatalities. The most common causes of work-related fatalities include highway incidents, falls, falling or moving objects. When this happens, employees that are fatally wounded are entitled to worker's compensation.
If you or a loved one has been injured in a workplace accident, you should consult one of our experienced and aggressive workplace accident attorneys. In an effort to help you or your loved ones, the attorneys of Sutliff & Stout, PLLC are happy to speak with you free of charge to discuss your concerns and situation.
Source: Click 2 Houston
Our deepest condolences go out to the families of the victims of this horrible incident. Please click the "Remove Post" link if you would like this post removed. REMOVE POST