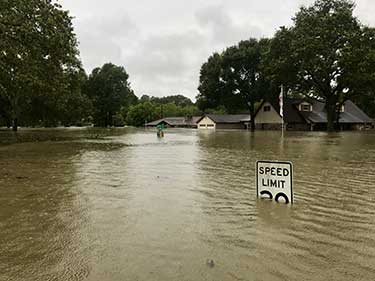 Anytime it rains in Houston there is the possibility of high water areas. Especially if there are two to three inches of rain over a brief period of time.  It's easy to misjudge the depth of floodwaters and get yourself in a bad situation. An important rule of thumb to keep in mind is that if you can't see the curb, don't drive into the water.
A normal passenger car sits approximately six to eight inches off the ground so it doesn't take much to flood your vehicle.  In fact, it only takes a foot of water to float a car and two feet of moving water can carry away most vehicles. Once your vehicle is floating, the floodwater becomes your steering wheel causing the chance for the vehicle to be swept away, tipped over, or flipped.
The worst decision one can make is attempting to drive into floodwaters. Just wait it out, the good thing about Houston is that the water recedes fairly quickly.
As the National Weather Service has campaigned for years: "Turn around, don't drown!" If you must drive, stay informed with weather and traffic updates through the National Weather Service and live Houston traffic updates.
Safety Tips For Driving For When It's Raining 
Drive with caution and slow down in heavy rain
Provide extra braking distance
Stay away from puddles to avoid hydroplaning
Don't drive near barriers or through high water
According to Flood Safety, flash flooding is the leading cause of weather-related deaths in the U.S. There are approximately 200 deaths per year with over 50% of flood-related drownings are in vehicles. Texas leads the nation when it comes to flash flood deaths with 76% of deaths are vehicle-related.
The good news is that you can escape a sinking vehicle. If you are stuck in your vehicle underwater, you have an average of 30 to 60 seconds to get out alive.
It is natural to find yourself in panic mode and wanting to call 911 as the emergency is happening. However, the best thing for you to do is not to call 911 until you get out of your vehicle. Remain calm and act quickly. Time is critical as every second count for survival. It is best to focus on getting out of your car first and calling 911 once you've made it alive.
Here are some basic tips to keep in mind. Unbuckle your seatbelt to give yourself the flexibility to maneuver and escape. Open or break the passenger window before the water rises. Opening the door will be very difficult against the water pressure.
Vehicles with power windows can be difficult as the electrical system may shut down once the car hits the water. If you are unable to roll your window down, break the window using your headrest or a rescue tool such as a Swiss Army knife or a small hammer.  When a car is sinking, it will tilt forward causing the water to push against doors and windows. If you are unable to get the window open, keep trying until you are able to escape.
The Harris County Flood Control District's Flood Warning System (FWS) measures rainfall and monitors water levels in bayous and major streams on a real-time basis.
(Harris County FWS Map: https://www.harriscountyfws.org)
The FWS is used by local and national agencies to inform users of potential and current flooding conditions in the area. Houston Transtar reports real-time high water locations in Houston-area roads. By using these resources proactively it allows you to take appropriate precautions during times of heavy rain and flooding.
Common Areas in Houston Prone to High Water
High Water Underpass include locations where underpasses experience high levels of water
Higher water indicators are water-level measuring devices constructed of a 0.75-to 1-inch pipe with holes in its bottom and a wooden stick and cork shavings inside
Flood Signals are locations of gages measure rainfall amounts and monitors water levels in bayous and creeks on a real-time basis to inform officials and the public of dangerous weather conditions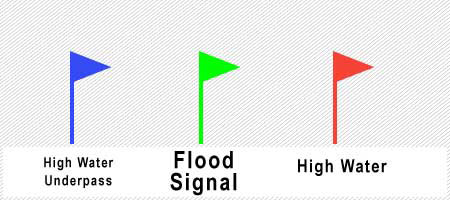 North Houston
High Water Locations:
Greens Rd at North FWY
Greens Rd at E. Hardy Rd
Crosstimbers at I-45N FWY
Kelley St at Hardy Toll Rd
Jensen Dr. at South of Bennington St.
Bennington St at Eastex FWY, 77093
Jensen Drive at North Loop East FWY
Jensen Drive at N. Lyons Avenue
High Water Underpasses:
1600 Jensen
1600 East Crosstimbers
1900 Kelley Street
8100 Hempstead
Flood Signal Locations:
1700 Jensen Drive
6514 Jensen Drive
3500 Kelley
5800 Elysian
7506 E Hardy Drive
5405 Mesa Drive
Northwest Houston:
High Water Locations:
Barker Cypress at Hempstead
Barker Cypress at W. Parkview
Barker Cypress at Clay
Barker Cypress at Saums
Clay Rd at West of Brittmore
High Water Underpasses:
Flood Signal Locations:
Central Houston:
High Water Locations:
Allen PKWY at Waugh Drive
Memorial at Waugh Drive
Studewood at Katy FWY
Center Street at Houston Avenue
Houston Avenue at Katy FWY
North Main at Burnett
2500 Allen Pkwy at Montrose Drive
Memorial at Shepherd
Memorial at Studemont
Memorial Drive at Houston Avenue
Katy Rd at Silver Eagle
High Water Underpasses:
100 Shepherd Drive
100 Yale Street
1000 Houston Avenue
1200 Studemont
1200 Wayside
N. Main at Burnett
300 Studewood
3400 N. Shepherd
3500 Kelley Street
7000 Old Katy Rd
Memorial at Woodway
Flood Signal Locations:
1989 Allen Parkway
3087 Allen Parkway
774 Houston Avenue
Houston Avenue and Center Street
4450 Memorial Drive
10200 Old Katy Road
Downtown:
High Water Locations:
Lamar Street at Bagby
Walker Street at West of Bagby
Travis Street at I-10 FWY
Louisiana Street at N. Franklin Street
1300 Commerce Street at Austin Street
Texas Street at Prairie Street
Franklin Street at St. Emmanuel
Mesa at N. US 90 HWY
High Water Underpasses:
100 Milam Street
300 S 75th
200 Forest Hill
2100 Franklin
2400 Harrisburg
2500 Allen PKWY
2900 Allen PKWY
3800 Polk
400 Houston Avenue
4800 Elgin
5600 Mesa
600 Broadway
6500 Jensen
7000 Clinton
7500 Clinton
Flood Signal Locations:
3799 Polk
2050 Franklin Street
7220 Clinton Drive
306 S 75th Street
600 Brooks Street
247 Forest Hill Blvd.
Medical Center:
High Water Locations:
7000 Main Street at Holcombe Blvd.
7000 Fannin Street at Holcombe Blvd
High Water Underpasses:
Flood Signal Locations:
Main at Holcombe Blvd.
Fannin at Holcombe Blvd.
The Heights
High Water Locations:
White Oak Drive at Taylor Street
White Oak Drive at Sabine
Washington Ave at Hempstead
North Main St. at West of Boundary St
High Water Underpasses:
4800 Memorial
Washington at Old Katy Rd
Flood Signal Locations:
Southeast Houston
High Water Locations:
Lawndale Street at Braes Bayou
9600 Lawndale at E. Goodyear Drive
Galveston Road at S. Howard
High Water Underpasses:
4900 Galveston Rd
7200 J W Peavy
8100 Harrisburg
9600 Lawndale
Flood Signal Locations:
4401 Elgin Street
5455 Old Spanish Trail
4953 Galveston Road
8040 Harrisburg Blvd.
6598 Lawndale
9600 Lawndale
615 Broadway Street
Southwest
High Water Underpasses
Westpark at S. Kirkwood
11700 Richmond
Westpark at Bonnebridge Way
Sources:
Harris County Flood Warning System
Houston Transtar High Water Locations
https://abc13.com/traffic/most-likely-roads-to-flood-in-and-around-houston/2342094/
https://weather.com/safety/floods/news/flash-flooding-vehicle-danger-20140717
http://www.floodsafety.com/national/life/statistics.htm
We want to help you too.
Submit the short form below to get a free case review.