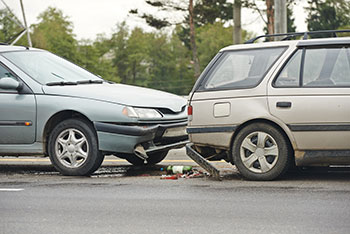 HARRIS COUNTY (April 29, 2019) – Two people were killed and one critically injured in a two-vehicle crash involving a 16-year-old driver in northwest Harris County.
The car accident happened Saturday, April 27th around 2:00 p.m. at TC Jester Boulevard and Fallbrook Drive.
The collision occurred between Jesus Luna, 16, driving an orange pickup truck and Jolanda Silas, 55, driving a black Toyota Camry with two passengers.
According to Harris County Sheriff Ed Gonzalez, Ms. Silas stopped at an intersection, but could not proceed because a car was blocking her view. She decided to pull out onto Fallbrook Drive when Mr. Luna collided on the driver's side of the Camry causing her car to spin.
Edwina King, 52, who was a back passenger in the Camry was not wearing a seat belt and was ejected from the car. Both Silas and King were pronounced dead on the scene.
A third passenger in Silas' car, 52-year-old Shawdra King, was taken to the hospital in critical condition.
Jesus Luna was taken to the hospital in stable condition.
Mr. Luna had his learner's permit. Early reports indicate that there was no way Mr. Luna could avoid the accident as he had the right of way, but he was speeding.
Crash investigators will review all factors that may have led up to the accident and police reports will be made available in ten days.
If you or a loved one were involved in a car accident, it is important to contact a legal expert to help you evaluate your options. Call (713) 987-7111 or send us an email to discuss your car accident injury case.
Source:KHOU