Houston, TX (7/19/2020) – A Florida man was passed out after he crashed into a house in a Houston neighborhood Sunday morning.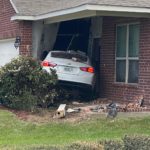 The accident happened on Newcastle Ridge Lane in Harris County. The man drove his white Chevy Malibu off the roadway, through the yard, and crashed into the garage of a nearby home. The driver was found unconscious.
No other injuries were reported since no one was inside the home at the time of the crash. One of the tenant's vehicles inside the garage was damaged.
The man is suspected of being under the influence at the time of the crash.
Crash investigators will review all factors that may have led up to the accident and police reports will be made available in fourteen days.
While the Florida man inflicted no injuries, he did cause a great deal of property damage to the house. According to Forbes.com, the average American experiences three or four car accidents in their lifetime, and almost all collisions result in significant property damage. The car accident attorneys at Sutliff & Stout have helped countless car accident victims in Houston with their injury and property damage claims. For further legal counsel on what to do after your accident, call the car accident attorneys at Sutliff & Stout for a free consultation. Board Certified in Personal Injury Trial Law, our attorneys have the experience and knowledge to guide you through this difficult time. To schedule your consultation, complete an online contact form or call their office at (713) 987-7111.
Source: Click2Houston