Corpus Christi, TX (9/15/2021) – A man suffered burns after an explosion occurred in an apartment Wednesday afternoon.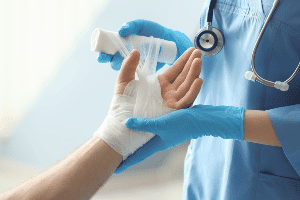 The accident happened in a vacant apartment at the Chandler's Mill complex near Airline and Holly when a worker resurfacing a bathtub caused a build up of fumes. A spark ignited flames due to the fumes and an explosion occurred.
The man suffered burns to over 40 percent of his body. He was sent to a burn center in San Antonio. 
The other worker was not injured and needed no medical attention.
Crash investigators will review all factors that may have led up to the accident and police reports will be made available in fourteen days.
Burn Injury Lawyers
In the United States in 2009, thousands of people are killed every year due some type of fire related incident and significantly more people sustain burn related injuries. Many burn injuries and deaths in Houston, Texas are due to the carelessness or recklessness of others. Among some of the more common causes of burn injuries are: faulty wiring or plumbing, auto accidents, defective automobiles, unsafe workplaces, poorly maintained smoke alarms or residence lacking the devices, and defective products.
Burn and inhalation injuries are deadly and fatal for those who suffer from them. These injuries are expensive and can cost thousands to treat. First degree burns can take months to heal and third degree burns can take up to several years to treat. This can put a burden on the victim's time, money, and ability to live.
In the case above, a worker suffered burns due to an apartment explosion. If you or your loved one were a victim of a burn injury due to negligence, it's important to contact legal assistance. The aggressive burn injury lawyers at Sutliff & Stout can protect you from further damage. We understand the taxing and tiresome process of healing and you shouldn't suffer through your burn injuries alone. For a free consultation, contact (281) 942-8694 and someone from our firm will be in touch.
Source: KRISTV