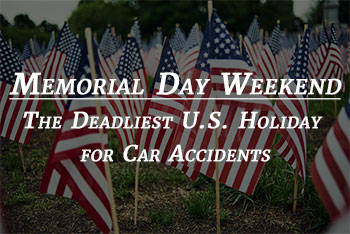 For many of us, Memorial Day marks the beginning of the summer. It is a three day weekend filled with friends, family, and food. It's also a time for road trips. According to the National Highway Traffic Safety Administration, fatal car accidents are more likely to happen over Memorial Day Weekend than any other holiday weekend.
Studies have shown from 2011 to 2015, there is an average of 312 accidents per year during Memorial Day weekend, followed by Labor Day Weekend and Fourth of July Weekend. Houston and Los Angeles are ranked as the top deadliest cities.
Memorial Day is soon approaching. It is important to know why car accidents are more likely to happen, how to stay safe, and what to do if you are involved in an accident during the holiday weekend.
Why Are There More Car Accidents Over Memorial Day Weekend?
More Traffic
The American Automobile Association (AAA) estimates that 39.3 million Americans will travel more than 50 miles over the Memorial Day weekend. More traffic leads to an increase in accidents. It is imperative for drivers to be extra careful to avoid a collision.
Fatigued Driving
Many drivers find themselves lacking sleep due to the preparation for the road trip and excitement of activities during the weekend. When you're tired, it is more difficult to concentrate on the road, and the reaction time to avoid an incident is delayed. Fatigued driving can be just as dangerous as drunk driving.
Drunk Driving
It is easy to consider drunk driving as the main cause of fatal accidents during the holiday weekend. Alcohol is a common theme when celebrating and people tend to go overboard. Drinking impairs judgment, the ability to pay attention and slows down reaction time. Approximately 68 percent of fatalities involving drunk drivers happen between the hours of 8:00 p.m. and 4:00 a.m.
Running Red Lights
According to the National Coalition for Safer Roads, there is an increase of drivers running red lights during the Memorial Day weekend. Drivers become more aggressive and impatient trying to avoid traffic delays. These factors, coupled with speeding or drunk driving, can suffer major consequences.
How Can You Stay Safe During the Memorial Day Weekend
These are some practical driving tips to stay safe during the holiday weekend.
Get a good night's rest before traveling. Take regular breaks if traveling long distances. Do not drive when fatigued.
Drive early in the morning or give yourself proper traveling time to avoid traffic.
Avoid distracted driving with your cell phone and other devices.
Do not drive while under the influence of alcohol or drugs. Assign a designated driver for all of your trips.
Keep a reasonable distance between you and the vehicle ahead of you.
Take a cab, public transportation, Uber or Lyft instead of driving.
What To Do If You're Involved in a Crash During the Holiday Weekend
If you are involved in an accident, the first thing you should do is consider your safety. Pull off the road to avoid any further accidents. If someone is injured or it is a serious accident, call 911. Next, exchange insurance and contact information. Take pictures of all vehicle damage which will help with your claim. File a police accident report and a claim with your insurance company.
If you or a loved one is dealing with an accident or injury, let an experienced car accident attorney help you with your claim. Your lawyer will help to protect your rights against insurance companies and maximize your financial recovery.