Rose City, TX (11/12/2020) – A two-vehicle wreck on Interstate 10 left one motorcyclist injured Thursday morning.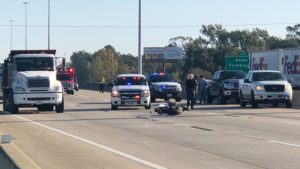 The accident happened around 8:15 a.m. near mile marker 858 on I-10. A Ford pickup truck headed southbound on the interstate was followed by a 2004 Honda motorcycle in the left lane. The rider of the motorcycle saw traffic and began to move into the right lane. That's when the Ford pulled out in front of him and struck the motorcycle.
The motorcyclist, 36-year-old Joseph Perry, was taken to the hospital with minor injuries. 
The driver of the Ford, 22-year-old Hector Robles, was not injured. He was issued a citation for an unsafe lane change. 
Crash investigators will review all factors that may have led up to the accident and police reports will be made available in fourteen days.
Motorcycle Accident Lawyers
In 2018, there were 618 motorcycle crashes in Houston alone. Those crashes produced 168 injuries, 131 more serious injuries, and tragically took 26 lives. When a motorcycle collides with another vehicle or object, more often than not that collision causes significant injuries.
In most cases, the driver of a passenger vehicle usually remains at-fault in damaging motorcycle accident cases. No matter if you're partially at-fault or if someone else is, at Sutliff & Stout, we fight for motorcycle accident victims to get the compensation that they deserve. To schedule a free and confidential consultation with a Houston motorcycle accident attorney at Sutliff & Stout, text or call (713) 987-7111 anytime, 24/7.
Source: 12 News Now
Our deepest condolences go out to the families of the victims of this horrible incident. Please click the "Remove Post" link if you would like this post removed. REMOVE POST