El Paso, TX (9/30/2020) – A motorcyclist was killed in a late Wednesday night crash in El Paso.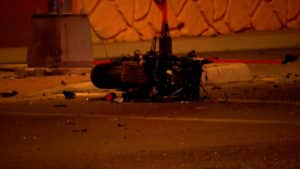 The crash happened just before 11 p.m. on Gateway Boulevard East at Giles Road. Aaron Lopez, 32, was driving eastbound in a Subaru Impreza when he ran through a red light and struck a Kawazaki Ninja motorcycle.
The motorcyclist, 21-year-old Samuel David Birmingham, was pronounced dead at the scene. 
Crash investigators will review all factors that may have led up to the accident and police reports will be made available in fourteen days.
The family of the motorcyclist killed in the accident may be entitled to a wrongful death claim against the insurance company of the driver who may have hit him. When filing your claim, it's important to consider legal assistance since they have the necessary resources to assist you after a fatal accident. If you would like to discuss your injury and accident case with a motorcycle accident lawyer from Sutliff & Stout, Injury & Accident Law Firm feel free to give us a call at (713) 987-7111 or send us an email to discuss your claim.
Our deepest condolences go out to the families of the victims of this horrible incident. Please click the "Remove Post" link if you would like this post removed. REMOVE POST