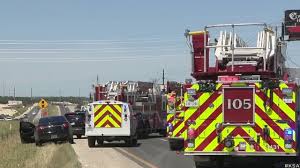 San Antonio, TX (4/27/2020) – A motorcyclist was killed and another person was injured after a three-vehicle wreck in the far North Side of San Antonio Sunday afternoon.
According to police, the motorcyclist and his passenger were headed northbound on Highway 281 near Bulverde Road when he slammed into an SUV around 2 p.m. The SUV then crashed into a vehicle in front of it.
The motorcyclist was pronounced dead at the scene. His female passenger was transported to University Hospital for treatment. Her injuries remain unknown.
No other people involved in the crash suffered serious injuries, police said.
Crash investigators will review all factors that may have led up to the accident and police reports will be made available in fourteen days.
Motorcycle Accident Attorneys
According to Texas Department of Transportation, last year there were 8,611 wrecks involving motorcycles, with 417 of them being deadly. While many Texans ride their motorcycles their entire lives without any incident, there is always a risk of an accident or injury each time you take to the road.
At Sutliff & Stout, we fight for motorcycle accident victims to get the compensation that they deserve. We understand that motorcycle riders face unfair prejudices and we'll work tirelessly to make sure that you receive a full and fair settlement for your injuries and other losses after an accident. To schedule a free and confidential consultation with a Houston motorcycle accident attorney at Sutliff & Stout, text or call (281) 942-8694 anytime, 24/7.
Source: KSAT