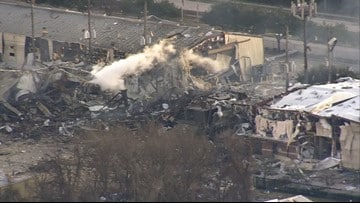 Houston, TX (1/24/2020) – A massive explosion in northwest Houston rattled homes, left one person unaccounted for, and one other injured early Friday morning.
The explosion occurred at Watson Valve Services at Gessner and extended for half a mile, according to HPD.
A homeowner was taken to the hospital alongside first responders from the Houston Police Department. Many other homeowners woke up to their houses falling to shambles.
According to officials, even though polypropylene was released into the air, no harmful substances linger. Officials recommend those in the area seek shelter at the Church of Latter Day Saints. The Red Cross is on the scene to assist families affected.
The cause of the explosion is being investigated by not only the Houston Fire Department, but also with the assistance of HazMat, Houston's ATF, and a bomb squad.
Bane Elementary and Dean Middle School will be closed for today.
According to KHOU 11, Gessner both northbound and southbound between Tanner and Clay is closed. Clay in both directions at Gessner is closed. Tanner in both directions is closed at Gessner.
The extent in damages caused by this untimely explosion in northwest Houston is greatly severe. Many homes are left damaged, and with it, many people inside are left with hundreds or thousands in property damage, injuries, and other catastrophes. If you or a loved one were involved in an explosion or suffer from a result from the blast, it is important to contact a legal expert to help you evaluate your options. Call Houston personal injury attorneys Sutliff & Stout at (713) 987-7111 or send us an email to discuss your case.
Source: KHOU 11, Click 2 Houston