Are you searching for the best Houston offshore injury lawyer to handle your case? If so, here's what you should know about Sutliff & Stout: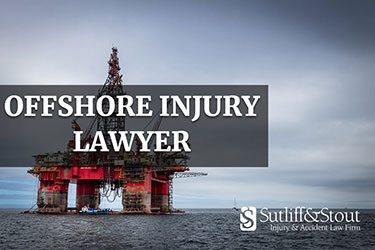 We have recovered millions for offshore accident victims across the Gulf Coast and the United States.
Maritime law, based on the 1920 Jones Act, is complex. You need a team of experts, like our maritime injury attorneys, with experience handling these cases.
Our maritime injury lawyers are Board Certified in Personal Injury Trial Law by the Texas Board of Legal Specialization. Just 7% of Texas lawyers can say the same.
We will take your case to trial if necessary. The maritime injury lawyer you choose for your offshore accident case needs persuasive courtroom skills. Our attorneys have vast trial experience.
We don't charge for consultations, and it costs you nothing out-of-pocket to hire us. Our firm handles maritime, admiralty, and Jones Act cases strictly on a contingency fee basis. We offer free consultations, and you pay no fees until we recover money for you.
We want to help you too.

Submit the short form below to get a free case review.
We're proud to be rated among the best wrongful death attorneys in Houston

Here is a recent example of one of our maritime injury case settlements.
Below you'll find a sample maritime injury case result that we achieved for a client. To see more case results from our firm click here.
Please note that prior results do not guarantee a similar outcome in your case.
$2,632,500.00
Maritime Injury Settlement
Sutliff & Stout represented Tony, who worked as a diver on a lift boat at sea. As Tony embarked on a personnel transfer from the lift boat to a crew boat, the unexpected happened. The cable on the personnel basket broke, sending Tony plummeting to the deck of the lift boat. Sutliff & Stout successfully settled Tony's claim against the careless lift boat company for $2,632,500. Net recovery to client was $1,764,587.37.
If you're ready to get started on your case, contact us today. If not, feel free to read through the information on maritime injuries and laws below.

Types of accidents and offshore work hazards
Jones Act & Longshore and Harbor Workers' Compensation Act
Types of compensation for maritime injuries
Types of Accidents and Offshore Work Hazards
Oil and gas industry and maritime workers are vital to the American economy, but they often work in dangerous conditions.
Sometimes, offshore workers experience serious on-the-job injuries with life-changing effects, such as:
Offshore rig injuries. These injuries can result from employers disregarding safety regulations, which leads to devastating consequences for innocent victims.
Deck accidents. Decks are dangerous places to work. Crew members may be struck by falling objects, fall from wet stairs, or sever fingers. Negligence on rough seas also sends deckhands overboard.
Equipment failures. When offshore equipment doesn't function properly, it causes severe damage, like burns or electrocutions. Moving or falling equipment also causes head injuries.
Fires and explosions. These hazards cause severe burns and fatalities. Malfunctioning ventilation systems, leaky pipeline pumps, and improper fuel storage lead to deadly fires and explosions.
Jack-up rig accidents. Shallow water drilling rigs pose dangers. Sometimes, electrical arcing on generators causes fire or corroded ring gaskets cause gas leaks and explosions. Rigs move or tip over if not properly stabilized, putting workers at risk.
Oil platform injuries. Platforms can become unstable in storms, leading to injuries. Most workers use a swing rope to get on and off the platform. This move is risky in rough seas and can lead to injury.
Inland marine injuries. Workers hurt on inland waterways may potentially recover damages under maritime law. Explosions, vessel collisions, and equipment malfunction occur on inland waters too.
Employers are legally required to keep working conditions safe and equipment well-maintained. When an employee suffers due to dangerous working conditions, a maritime injury lawyer makes the employer pay.
Types of offshore injuries
To provide for their families, offshore workers face dangerous working conditions. Terrible on-the-job injuries leave offshore injury workers without the ability to work.
Maritime workers may encounter these injuries:
Neck and back strains or herniated disks from heavy lifting
Toxic chemical exposure from ship cargo
Exposure to lead paint, solvents, and hazardous chemicals
Decompression, mixed gas errors, and injuries to divers
Amputations, paralysis, and head injuries from falling objects and equipment
Assaults and rapes by other crew members
Medical negligence by medical personnel
Falls and injuries from slippery or dimly lit walkways and decks
Burns and electrocutions from defective or unsafe machinery or equipment
Drowning deaths due to lack of railing and negligent life-saving and rescue techniques
An offshore injury lawyer makes sure that your employer takes financial responsibility for causing you harm.
Jones Act & Longshore and Harbor Workers' Compensation Act
The Jones Act was passed in 1920 and rules job-related maritime lawsuits.

Concerns about the health of the Merchant Marine and sailors prompted the act. Before the Jones Act, maritime workers struggled to recover damages for their job-related injuries. Now, many maritime workers recover damages under the law.

Two parts of the Jones Act are important for maritime workers today:

The first part promotes American labor interests. It restricts shipping and passenger trade within the US to American owned ships. Also, it requires 75% of a ship's crew must be American citizens and restricts foreign parts and labor.
The second part addresses workplace injuries. It mandates that any sailor injured at sea should receive "maintenance and cure," or pay and medical care. Sailors injured through employer negligence can sue for damages. Damages include death benefits if an offshore worker is killed on the job.
The Jones Act allows certain offshore workers to file lawsuits for negligence directly against an employer. This law differs from that governing land-based worker's compensation work injuries.

Though the Jones Act is extremely complex, our maritime injury lawyers know how to leverage the law. We use the Jones Act to make your employer pay for the harm you suffered in a dangerous work environment.

Who Qualifies for the Jones Act?
To file a lawsuit under the Jones Act, you must fulfill two primary legal qualifications:
You must work on a vessel in navigation for at least 30% of your time in active service.
Your work must substantially contribute to the mission of the vessel to which you were assigned.
Depending on your job title and duties, a court may relax these requirements. An offshore injury lawyer helps you determine whether you meet these qualifications.

To achieve maximum recovery under the Jones Act, call an offshore injury lawyer. It's best to talk to an attorney before you give any recorded statement to your employer. Agreeing to a written statement instead of a recording allows you to carefully describe what happened. This careful description prevents your employer from using your statement against you.
The Jones Act is clear about employer responsibilities to take care of their offshore employees. When employers put profits over the health of their workers, a maritime injury lawyer holds employers accountable.

Types of compensation for maritime injuries
If you've suffered an injury at your offshore workplace, you may wonder what types of compensation are available.

The Jones Act allows employer compensation for maritime injuries. Compensation for maritime workplace injuries comes in the form of "maintenance and cure" and general personal injury compensation.

Maintenance and Cure provides funds for medical treatment and general living allowance following an offshore injury. This payment continues until:
The worker reaches maximum medical improvement, meaning more medical treatments won't help, or
The worker returns to work.
General personal injury compensation includes compensatory and punitive awards.

Commonly awarded in personal injury cases, compensatory damages include:
Medical treatment for your injury
Income lost from not being able to work
Property loss, including clothing or other items damaged in the accident
Pain and suffering caused by your accident
Emotional distress as a result of the accident, including anxiety and insomnia
Loss of enjoyment or consortium, or losing enjoyment of people and activities as you had before your accident
In cases where the employer's behavior seems particularly awful, a judge or jury may award punitive damages. Although less common, punitive damages are awarded to teach the defendant a lesson through a financial penalty. Most states have a cap on the amount of punitive damages allowed for personal injuries. In Texas, the punitive damage cap is determined by a formula, allowing up to the greater of these choices:
$200,000 or
Two times the economic damages awarded, plus non-economic damages awarded, up to a total of $750,000
Personal injury cases resolve in two different ways. Often, the parties (you and your employer), the insurance companies, and attorneys negotiate and reach a settlement. Other times, your case goes to trial where a judge or jury determines your award.

An employer likely does not want to bring your case to court, but your maritime injury lawyer must prepare for that option. For maximum damages compensation, you should hire an offshore injury lawyer experienced in both negotiation and courtroom strategy.

What You Do Post-Accident Matters
Realize that things you do or don't do can impact your injury compensation.

Employers cast blame on employees with these methods:

Comparative negligence. The employee is partially at fault for the accident. Damages awarded reduce based on the amount of the employee's negligence.
Contributory negligence. Some states say employees that contributed even a little to the accident are contributorily negligent. Those employees can't recover at all. Texas does not follow this policy.
Failure to mitigate damages. You have to mitigate damages. In other words, help yourself if you can, and don't make your injuries worse.
An offshore injury attorney can advise you on actions to take post-accident to maximize your chances of financial recovery.
Consult With an Offshore Injury Lawyer in Houston, Texas
If you have questions about maritime injury on the Gulf Coast or other U.S. waters, contact our Houston, Texas offshore injury lawyers today. We are happy to assist you with your maritime injury needs.
Act before the statute of limitations on your workplace injury runs out– Jones Act claims must be filed within 3 years of the accident.
Contact us by filling out our online form or calling or texting us at 281-853-8446. We are available 24/7 to take your call.