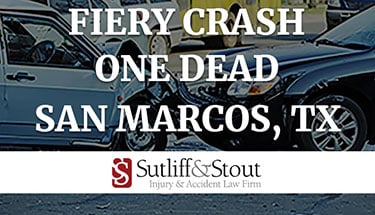 San Marcos, TX (11/19/2019) – An elderly woman is now dead after a fiery four-car wreck in San Marcos Friday night.
According to the DPS, the accident happened around 5:50 p.m. on SH 80 near Old Bastrop Road. A gray Hyundai Genesis, driven by 25-year-old Leonardo Godinez Perez, was headed west when it struck a silver Toyota stopped at a red light.
The Toyota then spun into oncoming traffic, where it was hit by a Dodge Ram. The Ram was subsequently hit by a Ford Focus. One of the cars caught fire.
The driver of the Toyota, Susie Olvera Salinas, 75, was transported to Ascension Seton Hays. She was later pronounced dead at the hospital.
No other injuries have been reported at this time.
DPS arrested Perez and was released on a $50,000 surety bond for intoxication manslaughter and a $5,000 surety bond for DWI.
The damages brought forth by Leonardo Godinez Perez may result in the thousands.
Not only will the family of Salinas be entitled to a wrongful death claim, which results in compensation for emotional loss and funeral expenses, but those injured will be compensated for medical expenses, pain and suffering, and even lost wages if their injuries leave them out of work.
This is why it's important to pay attention while driving at all costs. If you or a loved one were involved in a car accident, immediately contact a legal expert to help you evaluate your options.
Call car accident attorneys Sutliff & Stout at (713) 987-7111 or send us an email to discuss your car accident injury case. 

Source: San Marcos Daily Record
Our deepest condolences go out to the families of the victims of this horrible incident. If a family member would like the name of a person removed for any reason, please click the "Remove Post" link. REMOVE POST