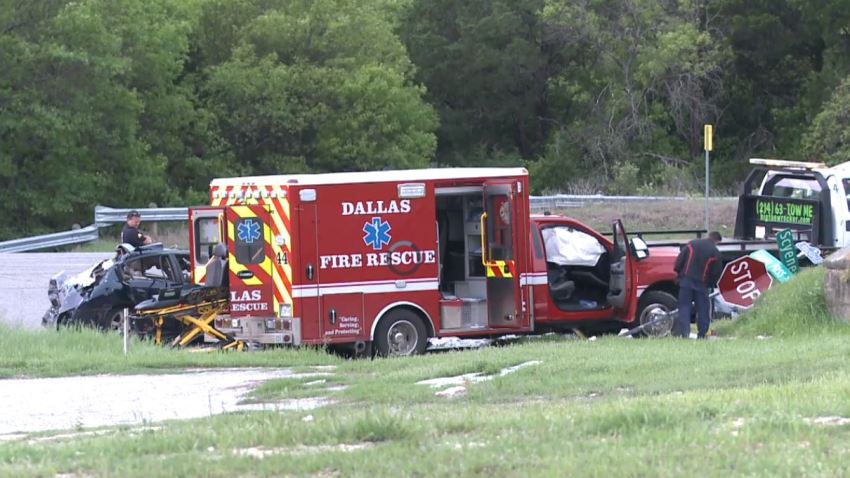 Dallas, TX (3/30/2020) – One person was left dead and five others injured after a car wreck involving an ambulance Sunday morning in Pleasant Grove.
The accident happened around 6:20 a.m. when an ambulance was parked at a stop sign at Scyene Road and Glover Pass tending to a patient. That's when a 15-year-old boy was driving at a high rate of speed down Scyene Road with two additional passengers — a 16-year-old boy and a 16-year-old girl. The 15-year-old boy lost control, left the roadway, spun and hit a sign and DART concrete bus stop bench. The vehicle then sunk into the ground, flipped over and landed on the roof before hitting the driver's side door of the ambulance, spinning it about 90 degrees.
The girl died from her injuries after she was taken to the hospital.
The boy passenger also had serious injuries and was taken to the hospital.
The driver of the ambulance was hospitalized with minor injuries, and the paramedic was also hospitalized with a possible concussion.
The patient sustained no injuries.
The driver of the Mustang had non-life-threatening injuries. He faces a charge of manslaughter and four counts of assault.
Crash investigators will review all factors that may have led up to the accident and police reports will be made available in fourteen days.
Car Accident Lawyers
Car accidents are the reason many people suffer injuries, even accidents that cause people to be hospitalized in the intensive care unit at the hospital, or killed.
When these kinds of wrongful fatalities occur, it's important to seek a personal injury or wrongful death lawyer. They have the resources necessary to help you after your accident, and if your case happens to go to trial, they'll be able to rightfully represent you and your case.
 If you would like to discuss your injury and accident case with a car accident lawyer from Sutliff & Stout, Injury & Accident Law Firm feel free to give us a call at (713) 405-1263 or send us an email to discuss your claim.
Source: NBC DFW