Amarillo, TX (11/21/2020) – A woman is dead and four others were injured in a three-vehicle wreck Saturday evening.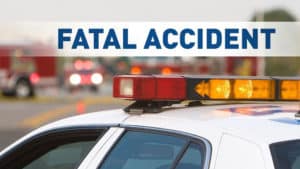 The accident happened on State Highway 152 around 6:30 p.m. A Dodge Caravan was stopped on SH 152 facing east waiting for traffic to pass. A Ford Mustang headed eastbound on SH 152 crashed into the rear of the Caravan due to the 16-year-old driver being distracted. The impact caused the Caravan to go into the westbound lane and collide with a Buick Lacerne headed west on SH 152.
The crash ended with the Buick crashing into a utility pole, the Caravan resting in a north barrow ditch, and the Mustang catching fire.
The driver of the Caravan, 76-year-old Sharon Williams, was taken to the hospital with life-threatening injuries, where she later died on Sunday.
Three passengers in the Caravan – a 13-year-old, a 9-year-old, and a 10-year-old – were taken to the hospital for their injuries.
The driver of the Buick, 56-year-old Gay Forsha, was taken to the hospital with serious injuries.
The 16-year-old was not injured.
Crash investigators will review all factors that may have led up to the accident and police reports will be made available in fourteen days.
Car accidents are extremely serious incidents that can cause a lot of damage and long-term suffering. On the busy highways in and around Texas, there are numerous hazards that can cause severe and even fatal accidents.
The attorneys at Sutliff & Stout are your answer for legal representation after a devastating three-vehicle wreck. We are committed to providing you competent legal assistance and will fight tirelessly to win you the settlement you deserve. Contact us today (713) 987-7111 or fill out the case review form.
Source: abc7amarillo
Our deepest condolences go out to the families of the victims of this horrible incident. Please click the "Remove Post" link if you would like this post removed. REMOVE POST