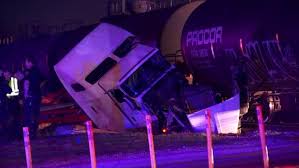 Fort Worth, TX (12/9/2019) – Police are investigating into an accident involving a freight train and a semi-truck loaded with passenger cars.
According to police, a semi-truck hauling two vehicles was crossing railroad tracks in Fort Worth when they were hit by a train around 9 p.m. Friday in the 4900 block of Keller Haslet Road.
The truck driver was transported to a local hospital with non-life-threatening injuries.
North Main Street was closed because of the crash.
Crash investigators will review all factors that may have led up to the accident and police reports will be made available in fourteen days.
Railroad Accident Attorneys, Sutliff & Stout
If you or a loved one has been injured while on or near a railroad, you should consult an experienced railroad accident attorney. In an effort to help you or your loved, the attorneys of Sutliff & Stout, PLLC are happy to speak with you free of charge to discuss your concerns and situation. Our railroad accident lawyers understand that each person's situation and needs are unique. Regardless of your situation or location, our lawyers are ready to help you and your family get back on track.
Source: NBCDFW