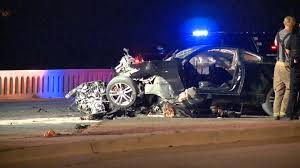 Fort Worth, TX (5/19/2020) – A person was killed after being involved in a street racing crash Sunday night.
The accident happened in northeast Fort Worth on North University Drive after 9:00 p.m.
According to police, two vehicles were racing at high rates of speed when the accident happened.
A passenger in one of the vehicles was pronounced dead at the scene.
One of the drivers was taken to the hospital.
Crash investigators will review all factors that may have led up to the accident and police reports will be made available in fourteen days.
Hiring a Wrongful Death Lawyer
The surviving family of the victim may be liable to a wrongful death claim due to the manner in which he died in the accident. Street racing crashes are incidents that end up in tragedy and should never be conducted in the first place.
If an insurance company is making it difficult to receive payment of your claim, or a person's insurance is substantial, hiring a lawyer is in your best interest. If your situation requires a lawyer, it's best to hire one as soon as possible. When you allow a lawyer to take control of your claim, your chance of fair treatment will increase significantly since legal professionals know the logistics of insurance policies and other matters that non-legal professionals aren't aware of.
If you or a loved one were involved in a car accident, it is important to contact a legal expert to help you evaluate your options. Call Houston auto accident attorneys Sutliff & Stout at (713) 987-7111 or send us an email to discuss your car accident injury case.
Source: NBC DFW