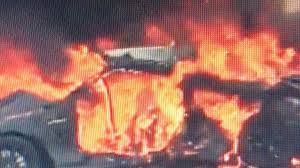 El Paso, TX (4/22/2020) – One person was left injured after a driver ran through a stop sign and caused a three-vehicle crash on Friday, April 17th.
The car accident happened on Wedgewood Drive near the Edgemere Boulevard intersection just before 10 a.m. A Nissan GTR was in flames after running a stop sign, striking a vehicle, and forcing that vehicle into a third vehicle.
According to officers, the driver was killed at the scene.
The driver of one of those other vehicles struck in the collision was taken to a hospital with non-life threatening injuries.
Crash investigators will review all factors that may have led up to the accident and police reports will be made available in fourteen days.
Texas Car Accident Attorneys
At Sutliff & Stout, we know one thing is for certain: car accidents happen every day. People get injured and insurance companies are contacted for claims. What we don't always know is the manner of the accident, or how someone could have lost control, much like the situation above.
This is why it's important to seek legal counsel after an accident so as to be protected the best you can. At Sutliff & Stout, our Houston injury lawyers have the experience and resources to help you and your family during this difficult time. If you were injured during a car accident, call personal attorneys Sutliff & Stout at (713) 405-1263 or send us an email to discuss your case.
Source: KVIA