Houston, TX (9/15/2021) – A blacked-out stoplight caused a fatal crash Wednesday morning in Spring Branch.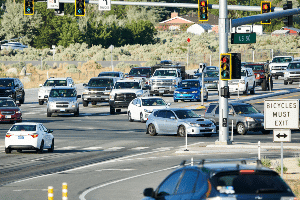 The accident happened around 5:20 a.m. at the intersection of Blalock and Campbell. Police say a Toyota Corolla and a Chevrolet Silverado failed to stop at the intersection due to the light being out. The Chevrolet was headed northbound when it struck a Toyota that was headed eastbound. 
A passenger in the front seat of the Toyota was pronounced dead at the scene. 
Officers say there were delays as CenterPoint worked to restore power. 
It was unclear if the other passengers were injured.
Intersection Accident Lawyers
Proper intersection design, maintenance, and traffic control management are necessary for drivers, pedestrians, and bicyclists to safely navigate Houston roads. Unfortunately, despite the Houston Traffic Management Branch's maximum safety efforts, data from the Federal Highway Administration (FHA) reveals that over half of all accidents that result in injury or death arise at or near intersections.
The purpose of intersections is to help all those traveling from opposite directions to cross paths without harm. Whether you're driving or walking, all off-road and on-road individuals are subject to specific regulations known as the right-of-way. When one or more persons fail to follow their applicable duties, a devastating intersection accident may occur. 
In the case above, a lack of maintenance on a stoplight led to a fatal intersection wreck. Contact the intersection accident attorneys at Sutliff & Stout today to learn more about your rights. To request a free consultation, call (713) 405-1263 or complete an online contact form. We do not collect fees until we win your case.
Source: ABC 13