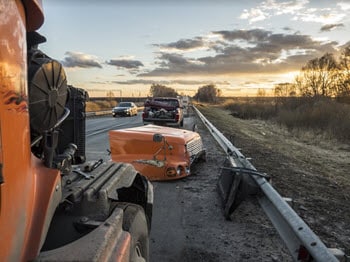 Guadalupe County, TX (10/30/2019) – A three-car collision resulted in a truck filled with 40,000 pounds of avocados spilling out onto Interstate 10, closing the highways for almost 12 hours.
The wreck occurred just after midnight on Tuesday when an avocado truck was struck by an 18-wheeler and a van. The truck tipped over, causing the avocados to spill out onto the roadway.
According to authorities, the driver of the avocado truck veered toward the median, then lost control. He overcorrected, swerved to the right, overcorrected again, and flipped the avocado truck and its trailer. The truck was then struck by an 18-wheeler and a van.
Two people in the avocado truck were injured and transported to a local hospital.
The driver of the second truck and the van did not suffer any injuries.
Crash investigators will review all factors that may have led up to the accident and police reports will be made available in fourteen days.
For crash investigations involving 18-wheelers, ECM's or Electronic Engine Modules will be brought in to examine how exactly the accident may have happened. ECM's have the ability to record every facet of data that occurred while the driver was driving the tractor-trailer. From documenting brake time to monitoring idle speed control system, ECM's are proven to be vital evidence to every investigation.
Hiring a Personal Injury Lawyer
If you think that you may have a personal injury suit based on the information above, it is important to bring forth your claim as soon as possible. In all cases, however, you must bring your personal injury claim forth within two years from the date of injury. Hire us immediately so our lawyers can take the necessary steps to make sure you and your family are protected during your recovery period.
If you are injured in Texas and believe that someone else is to blame, please contact the offices of Sutliff & Stout today. A case review is offered free of charge, and we work on a contingency fee basis. Our knowledgeable Texas personal injury attorneys care about you!
Source: KSAT

Our deepest condolences go out to the families of the victims of this horrible incident. If a family member would like the name of a person removed for any reason, please click the "Remove Post" link. REMOVE POST