Palmer, TX (5/9/2021) – A crash between an 18-wheeler and a pickup truck on I-45 left two people injured Sunday morning.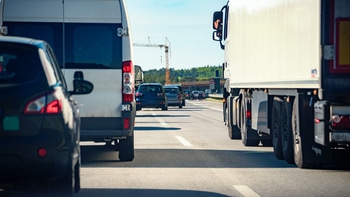 The accident happened in Ellis County just before 5 a.m. The 18-wheeler hauling plastic soda bottles rear-ended a Dodge Ram that had stalled in the outside lane of the interstate. The 18-wheeler then turned on its side on an overpass.
Two people in the pickup truck were taken to a local hospital.
The 18-wheeler driver was not hurt.
Crash investigators will review all factors that may have led up to the accident and police reports will be made available in fourteen days.
Rear-End Truck Accident Lawyers
Rear-end accidents are often referred to as "fender benders." Anyone who claims that rear-end accidents are minor has never seen the devastation caused by a semi-truck slamming into the vehicle in front of it. While accidents between trucks and passenger vehicles can happen in several different ways, rear-end accidents constitute over 26% of all truck-involved accidents. Due to how heavy trucks are, passenger vehicles are likely to sustain severe damage, gravely endangering their occupants.
If you or a loved one has endured moderate to severe personal injuries, or someone you love lost their life in a rear-end semi-truck accident, reach out to the skilled truck accident attorneys at Sutliff & Stout to uncover what your case is worth. Our utmost priorities are to defend you, protect you and your family, and uphold your rights when you need it most. When you're ready to have an aggressive advocate on your side, contact us for a free, no-obligation case review.
Source: Fox 4 News, NBCDFW