Fort Worth, TX (6/9/2021) – A wreck north of downtown Fort Worth left one fatality Wednesday night.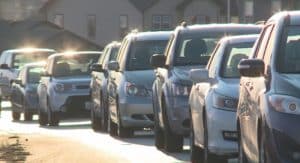 The accident happened around 11 p.m. along Interstate 35 at Highway 287. An 18-wheeler was stopped in traffic with two other vehicles stopped behind it when a third vehicle traveling too fast came up behind and struck the vehicles.
A person was killed and two others were injured at the scene.
A third person was treated at the scene.
Crash investigators will review all factors that may have led up to the accident and police reports will be made available in fourteen days.
Rear-End Accident Lawyers
Most people consider rear-end car accidents to be minor. Often, these collisions occur in bumper-to-bumper traffic, in a parking lot, or in other situations when cars are moving at low speeds. When rear-end car accidents occur at high speeds, they can result in severe injuries and are sometimes fatal.
A rear-end collision can alter your life in seconds. In the blink of an eye, you may find yourself handling catastrophic medical debt and legal matters, all while trying to cope with a traumatic event. If you were in a rear-end accident caused by the negligence of another party, let the attorneys at Sutliff & Stout help you attain the justice you deserve. You're more than just a client to us, which is why we believe it's imperative for us to develop a healthy relationship with you built on a foundation of trust, respect, and transparency.
At Sutliff & Stout, our Board-Certified accident attorneys deliver consistent results and positive outcomes, and will represent you from a strong position of experience, knowledge, and diligence. With our highly-rated firm on your side, you'll get a better chance for fair compensation. Call our office at (713) 405-1263 or fill out our contact form to get in touch with us today.
Source: Fox 4 News