Clear Lake, TX (12/4/2020) – Three people were injured after a 31-foot sailboat Traveler exploded and burned at Portofino Harbour Marina.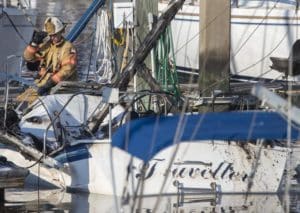 The incident happened around 2 p.m. when the sailboat exploded and burned.
Two people were critically injured and flown to the University of Texas Medical Branch in Galveston. The third injured person was taken to Clear Lake Regional Medical Center via ambulance.
The cause of the explosion remains unknown.
Investigators will review all factors that may have led up to the accident and police reports will be made available in fourteen days.
Auto accidents remain one of the main reasons burn injuries are treated at hospitals, but sometimes boating accidents can make up a portion of burn victims, such as the case above. According to the American Burn Association, burn victims make up over 700,000 trips to the hospital emergency rooms each year and of those visits over 45,000 of those individuals require hospitalization. These injuries include blisters, charred skin, and even nerve damage. These kinds of medical bills can be astounding, especially if there are other damages that occurred in the incident. It's important to consult legal counsel in the event of a serious boating explosion occurring. If you or a loved one were involved in a boating accident or suffered serious injuries such as fractures or burns, immediately contact a legal expert from Sutliff & Stout to help you evaluate your options.
Source: GalvNews 
Our deepest condolences go out to the families of the victims of this horrible incident. Please click the "Remove Post" link if you would like this post removed. REMOVE POST