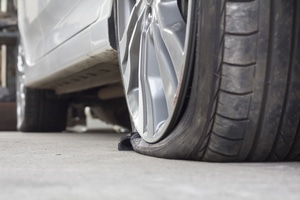 While most car accidents are the result of negligence, they can be caused by mechanical problems. A mechanical issue may be the main cause of your car accident, or it can be a contributing factor that turns a minor accident into a deadly one. Generally, conversations concerning mechanical failure–related car accidents are limited, causing drivers to overlook the dangers tied to these types of accidents.
According to the National Highway Traffic Safety Administration (NHTSA), around 2% of car accidents were caused by mechanical failure from 2005 to 2007, translating to about 44,000 car accidents. Of these accidents, the failure typically stemmed from faulty parts and inadequate maintenance. Regardless of the root cause, drivers can face life-threatening injuries or deaths in an accident caused by mechanical failure.
We want to help you too.
Submit the short form below to get a free case review.
Five Serious Mechanical Problems That Cause Car Accidents
Mechanical problems in cars can occur as a result of normal wear and tear, insufficient vehicle service or tune-up, or design or manufacturing errors. The following information will highlight five of the most common mechanical errors occurring in vehicles:
Tires or Wheels
Tire failure is the leading cause of mechanical failure–related car accidents. The NHTSA reports that 35% of car accidents are caused by tire-and wheel-related issues. Common problems that trigger tire failure include:
Tire blowouts: Tires burst under pressure due to bald, underinflated, or overinflated tires.
Worn tires: Tires thin out and lose their tread over time, causing them to be less responsive and more likely to slip.
Tires need regular maintenance for optimum performance and to keep you and others safe on the road. To prevent tire-related accidents, you must maintain optimal tire pressure or replace faulty tires. Also, regularly check your tire alignment, as poorly aligned tires wear down faster than others.
Brakes
Bad brakes are extremely dangerous, increasing the likelihood of a high-risk accident or injury. Aside from jeopardizing your safety, driving with bad brakes could be a huge financial blow. Not only can bad brakes cause a rear-end collision, but they can also cause loss of vehicle control and overturn. Common circumstances causing brake-related issues include:
Faulty brake lines: Brake line failure commonly occurs when the brakes begin to leak or corrode. Leaks can cause brake fluid to drain quickly, impacting the braking system.
Anti-Lock Brake System (ABS) malfunctions: ABS malfunctions commonly occur when sensors become contaminated with debris or metal shavings. A malfunctioning ABS can cause loss of traction, skidding, and shuddering, which compromises braking performance.
Worn brake pads and discs: Brake pads commonly wear over time. As brake pads wear, so do discs, rotors, and calibers. This deterioration causes brake pads to thin out, making it harder for your vehicle to come to a complete stop.
Vehicle brakes should be professionally inspected every six months. If there are any unusual noises or warning lights, then you should take your vehicle to get inspected immediately. Maintaining proper brake functionality can potentially save your vehicle and your life.
Steering and Suspension
Steering or suspension problems can be difficult to identify. A problem with your steering or suspension system can cause you to lose control of your vehicle, leading to a serious accident. Here are common signs of steering and suspension issues:
Listing to one side while driving
Feeling every bump
One corner sitting low
Difficulty steering
The best way to prevent steering and suspension issues is to make sure you take your vehicle to all scheduled maintenance appointments. Have a full inspection performed on your vehicle and obtain a report from your mechanic to see if there are any problems with your vehicle.
Headlights and Taillights
Headlights and taillights help you see more clearly in low-visibility conditions like nighttime or bad weather, and they also allow other drivers to see you. Even during the day, properly functioning lights like blinkers allow drivers to prepare for you to slow down or change lanes. A bad fuse, worn wire, or socket failure can stop your headlights or taillights from working. When visibility is obstructed, you can end up in a life-altering car accident.
Windshield Wipers
When it's raining or there is debris on the windshield, drivers rely on their vehicle's windshield wipers for visibility. When windshield wipers wear out, you may notice streaks on your windshield or hear screeching sounds when the wipers operate. Other causes of windshield wiper failure include:
Blown fuse
Loose pivot nuts
Motor failure
Torn rubber
External interference
A thorough inspection of your entire windshield wiper system can ensure that all components are working properly. If you notice any issues with your windshield wipers, it's crucial to seek assistance to diagnose the problem and resolve it before you end up in a terrible situation.
Who's Liable for a Car Accident Caused by Mechanical Failure?
Car accident cases involving mechanical failure are incredibly complicated in terms of determining fault. When mechanical failure causes a car accident, several parties may be held liable:
Owner: When you own a vehicle, you are responsible for the proper maintenance and quality servicing of your vehicle. Failure to follow your vehicle's maintenance schedule could void your vehicle's warranty, depreciate the quality of your vehicle, and cause a serious accident to occur.
Mechanic: If your engine starts sputtering or stalling after taking your vehicle to get serviced, it may have to do with a mechanic's failure to perform adequate service.
Manufacturer: When a manufacturer fails to notify you of a recalled or deadly part, your vehicle poses a significant danger to all who share the road.
Having a skilled attorney on your side who is willing to investigate all possibilities as to why the accident occurred and who is to blame can prove invaluable to your car accident claim.
Compassionate Houston Car Accident Attorneys on Your Side
Despite your best efforts to stay alert behind the wheel, there's not much you can do when a mechanical issue causes your crash. If you or a loved one has been seriously or catastrophically injured in a mechanical failure–related car accident, contact a compassionate Houston car accident lawyer at Sutliff & Stout to secure the compensation you're entitled to under Texas law.
The Sutliff & Stout legal team understands the intricate legalities that are involved in mechanical failure–related car accidents. We know how to investigate your case and negotiate with insurance companies, and when they're being uncooperative, we won't hesitate to file a lawsuit if that means getting you the justice you deserve. Our attorneys are committed to the well-being and safety of our clients, and we won't stop until we recover maximum compensation for your losses. Call (713) 987-7111 or complete a contact form for a free, no-obligation consultation with a Board-Certified attorney at Sutliff & Stout.