Weatherford, Texas (8/29/2020) – Several people were injured on Lake Weatherford Saturday afternoon after a boat explosion occurred.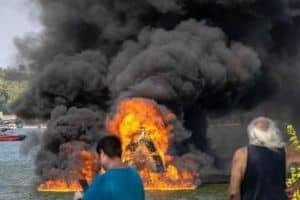 The incident happened just after 3:15 p.m., immediately after the vessel was fueled up. Investigators say the boat fire may have happened from fuel vapors in the bilge. The boat sank following the explosion.
Nine people were on board, ranging from 2 years old to 60 years old. Many suffered second-degree burns, as well as other injuries.
One passenger now suffers with burns of about 40 percent on their body, though all are said to be in stable condition.
Crash investigators will review all factors that may have led up to the accident and police reports will be made available in fourteen days.
Auto accidents remain one of the main reasons burn injuries are treated at hospitals, but sometimes boating accidents can make up a portion of burn victims, such as the case above. According to the American Burn Association, burn victims make up over 700,000 trips to the hospital emergency rooms each year and of those visits over 45,000 of those individuals require hospitalization. These injuries include blisters, charred skin, and even nerve damage. These kinds of medical bills can be astounding, especially if there are other damages that occurred in the incident. It's important to consult legal counsel in the event of a serious car accident resulting in thousands in damages and expenses. If you or a loved one were involved in a car accident or suffered serious injuries such as fractures or burns, immediately contact a legal expert from Sutliff & Stout to help you evaluate your options.
Source: Fox 4 News
Our deepest condolences go out to the families of the victims of this horrible incident. Please click the "Remove Post" link if you would like this post removed. REMOVE POST