Houston, TX (4/18/2021) – A single-vehicle crash left a vehicle burning for hours following an accident Saturday night in The Woodlands.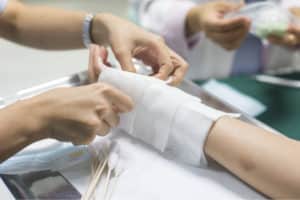 The accident happened when a Tesla model S veered off the road and struck a tree. The car caught fire and firefighters spent hours putting out the blaze. It took 23,000 gallons of water to extinguish the flames.
Two men, a passenger in the front and in the back, were found dead at the scene. They were identified as Dr. William Varner and 68-year-old Everette Talbot.
Crash investigators will review all factors that may have led up to the accident and police reports will be made available in fourteen days.
Burn Accident Lawyers
In the United States in 2009, thousands of people are killed every year due to some type of fire-related incident and significantly more people sustain burn-related injuries. Many burn injuries and deaths in Houston, Texas are due to the carelessness or recklessness of others.
According to the American Burn Association, burn victims make up over 700,000 trips to the hospital emergency rooms each year and of those visits over 45,000 of those individuals require hospitalization.
If you or your loved one were a victim of a burn injury due to negligence, it's important to contact legal assistance. The aggressive burn injury lawyers at Sutliff & Stout can protect you from further damage. We understand the taxing and tiresome process of healing and you shouldn't suffer through your burn injuries alone. For a free consultation, contact (713) 405-1263 and someone from our firm will be in touch.