Plano, Texas (March 25, 2023) – A speeding vehicle struck an SUV while it was exiting a parking lot, causing a major accident.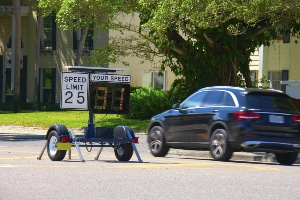 The crash occurred along Custer Road and McDermott in Plano. The collision caused the SUV to flip onto its roof and the speeding vehicle to strike a nearby tree. 
Reportedly, both drivers were taken to local hospitals by first responders and are expected to recover fully.
Speeding Accident Lawyers
Thousands of individuals are hurt in high-speed car accidents throughout Texas yearly. Despite the knowledge that speeding is dangerous, speed remains one of the leading causes of car accidents. Speeding increases the likelihood of crashing and substantially furthers the risk of catastrophic injuries or death among victims. 
The psychology behind why people speed has to do with a variety of situational, motivational, personal, and societal factors. Some key similarities among speeding drivers include:
Inattention

Intoxication 

Habit

Road rage

Impatience or being late to something 

Bad driving environment 

Length of trip 

Pressure to keep up with traffic 

A vehicle with high horsepower 
If you've been injured in a high-speed car accident, Sutliff & Stout will do more than represent you. We'll assist you in filing your claim or bringing a lawsuit against the other driver, negotiating with insurance adjusters, and establishing the extent of your injuries to fight for maximum recovery benefits. Request your free, no-obligation consultation with one of our injury lawyers by calling (713) 405-1263 or completing our contact form today. 
Source: Irving Weekly