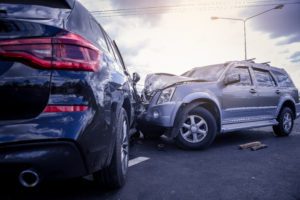 Houston is no stranger to fatal car accidents. Motor vehicle crashes occur throughout Texas for various reasons. While most traffic accidents and collisions are preventable, certain driving behaviors influence crashes more than others. The National Highway Traffic and Safety Administration reports that among a variety of poor driving behaviors, speeding remains a primary culprit of fatal accidents.
In Houston, speeding is the most common cause of both fatal and non-fatal car accidents. While everyone knows the risks associated with speeding, many drivers still choose to drive at dangerously fast speeds, placing other drivers at risk. If you have been involved in a speeding-related accident in Houston, it's essential to take legal action. Working with a skilled Houston car accident lawyer is the best way to ensure your rights are protected. Here is some important information to know about speeding-related accidents in Houston.
We want to help you too.
Submit the short form below to get a free case review.
Why Is Speeding Dangerous?
When a heavy object—such as a car—is operating at a high speed and crashes into something, it creates a much more significant force than when the same crash occurs at a slower speed. For drivers, this holds various implications. For one, larger vehicles that operate at high speeds pose more risks than smaller vehicles operating at the same rate—individuals involved in crashes with semi-trucks face a much higher risk of injury. Additionally, driving at above-average speeds can limit a driver's control of their vehicle. Some of the various ways speeding can affect a driver's control include:
Slower reaction times. Speeding makes it much more difficult for a driver to react appropriately to various conditions on the road. Additionally, it poses challenges for turning around corners and navigating curves in the road.
Reducing the effectiveness of built-in safety features. Research shows that speeding reduces the effectiveness of seat belts and airbags, placing drivers at a higher risk for incurring significant injuries.
Reducing stop times. The faster a vehicle is driving the more time it needs to stop. An average car operating at 65 miles per hour needs one football field to come to a complete stop. This distance increases in accordance with a car's size and speed.
These are just a few ways speed can affect a driver's control and in turn, their ability to safely operate their vehicle.
Common Motivations for Speeding
Despite the known risks and dangers, many drivers continue to speed while on the road. Some of the situations and motivating factors that correlate with speeding accidents include:
Running late. When people are running late, they are more likely to speed. Whether a driver is concerned about missing an appointment or getting to work on time, running behind is one of the most common motivations for speeding.
Heavy traffic. Stop-and-go traffic is one of the most common situations in which speeding accidents occur. Most commonly, a driver will be driving too fast for the road conditions or weaving in and out of traffic.
Failing to think about other drivers on the road. Unfortunately, many drivers simply don't care about the safety of others. Often, these individuals feel laws and rules do not apply to them and engage in reckless driving behaviors that endanger others.
No matter what a person's intention is for speeding on the road, it endangers other drivers. If you have been involved in a car accident as a result of another driver speeding, it's essential to know your legal rights. Consulting a skilled personal injury lawyer is the best way to ensure you are protected.
Contact the Personal Injury Lawyers at Sutliff & Stout
Getting into a car accident can be an extremely draining, emotional, and stressful experience. If you have been involved in a car accident in Houston, it's essential to seek legal counsel from an expert car accident lawyer. At Sutliff & Stout, we understand the stress accompanied by car accidents and are dedicated to taking a personalized approach to every case. Our firm has been recognized as one of the top 3 personal injury law firms in Houston, and our team of Houston car accident attorneys have helped thousands of individuals with their car accident claims.
If you are looking to discuss your car accident case with a personal injury lawyer, the team at Sutliff & Stout is here to help. Call us today at (713) 405-1263 or contact us online to discuss your injury or car accident claim.