Car Accident Attorneys Fighting for the Victims in Sugar Land
When another person's negligence results in an accident that causes your injuries, you should not be responsible for the financial costs.
An experienced Sugar Land car accident lawyer from Sutliff & Stout is standing by to speak with you about your case and present your best path for for maximizing your recovery.
We Can Help You Get Justice

Submit the short form below to get a free case review.
Proud to be rated among the best car accident law firms in Sugar Land, Texas

Where do most major accidents in Sugar Land occur?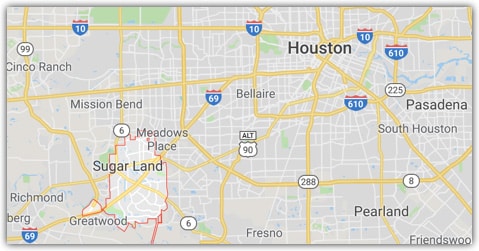 Interstate 69 runs right through the heart of Sugar Land Texas in Fort Bend County, carrying hundreds of thousands of road trippers, commuters, and commercial truckers, every year. Like most major interstates, I-69 is home to no shortage of vehicle collisions.
While many of the collisions cause only minor property damages and injuries, this is not always the case.
The high speeds and large vehicles mean the potential for violent crashes and catastrophic injuries. At Sutliff & Stout, we provide car accident representation to victims of serious auto accidents, and other personal injury-causing accidents in Sugar Land, and throughout the greater Houston area.
If you or a loved one has been in a car accident in Sugar Land, we invite you to contact our office to speak with a car accident attorney for a free review of your case.
Is Sutliff & Stout located in Sugar Land?
One of Sutliff & Stout's four fully staffed offices is in Houston. While we do not have an office in Sugar Land, we are available to you by phone, email, and we will travel to meet you wherever it is most convenient. We have handled many cases for Sugar Land residents over our 12+ years as a Firm.
Motor Vehicle Accident Statistics in Sugar Land, TX
Sugar Land, while relatively small in population, is not immune to serious vehicle crashes. The data in the chart below comes from the Texas Department of Transportation, and gives an overview of the total crashes, incapacitating injuries, traumatic brain injuries, total injuries, and deaths that have resulted from vehicle collisions in Sugar Land from 2010–2016.
Common Car Accidents in Sugar Land, TX
Car Accident law is a broad area of the law that encompasses many different matters. Many car accident cases require the plaintiff to show that the defendant was negligent, but some types of car accident claims use a theory of law known as strict liability.
We handle a wide variety of car accident cases including but not limited to the following:
We Auto Collisions
18-Wheeler Collisions
Motorcycle Crashes
Wrongful Death Cases
Jones Act Injury Cases
Oil Industry Accidents
If you were injured in an auto accident caused by another party's negligence or harmful act, you should learn more about filing a personal injury lawsuit in Sugar Land.
The after effects of a car wreck can be stressful. You are dealing with medical bills, lost wages, and are out of a vehicle. Dealing with insurance companies can be an added stressor. We handle injury and accident claims for clients to obtain car accident settlements in order for you to take care of your lost wages, medical expenses, medical care or individualized care, pain and suffering, or even medical malpractice cases. If you are having difficulties with an insurance company over an injury settlement, you many need to consult Sutliff & Stout, Injury & Accident Law Firm to discuss your options.
Get a Free Case Review from Our Sugar Land Car Accident Lawyers
Every type of car accident claim has a statute of limitations, which means your claim must be filed within a certain period of time or else you can lose your right to seek compensation. Depending upon the type of car accident lawsuit, the statute of limitations can vary. For example, a car accident or property damage is two years in Texas. A Sugar Land car accident attorney can help to ensure that you get your claim filed on time.
At Sutliff & Stout, we value the attorney-client relationship. We are a high rated car acccident law firm in Houston-Sugar Land, TX. Our experienced car accident lawyers are dedicated to aggressive representation of our clients that yields results.
If you or someone you love sustained a serious car accident, you should learn more about filing a car accident lawsuit. Contact Sutliff & Stout Injury & Accident Law Firm to get started on your case today.
"I will always go to Sutliff & Stout."
I suffered a car accident that kept me out of work for a long time due to injuries. The good news was that I didn't have any bills afterwards; even my hospital and my ambulance bills were paid for after my accident. The insurance company settled once Sutliff & Stout boldly showed them we were prepared to try the case. I will always go to Sutliff & Stout.
– Susan C.
Read and watch more client testimonials…