Harris County, TX (5/7/2021) – Two children were involved in a fatal ATV crash in north Harris County.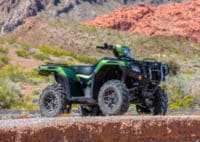 The accident happened around 6:30 p.m. on Rosemary Lane near Keith Road. An ATV crashed into a SUV after failing to yield at a stop sign. The ATV drove into the intersection at the same time as the SUV.
Reports say the SUV was speeding, and the impact of the crash ejected the two children.
A teenager, 17, was killed at the scene.
A 6-year-old was critically injured.
The driver of the vehicle, 18, was sent to the hospital with non-life threatening injuries and is in stable condition. The four passengers were not injured.
Failure to Yield Accidents
Failure to yield is among the leading cause of roadway accidents in Texas. Some drivers simply fail to give their full attention while driving, and others consider themselves above the law. Regardless of why the failure occurred, everyone is obligated to yield the right-of-way by following official traffic signs and signals and adhering to the rules of the road.
In most cases, failure to yield accidents are caused by a negligent driver. In the case above, an ATV failed to yield at a stop sign, causing a crash with a SUV to occur.
According to the Consumer Product Safety Commission, 135,000 people are injured every year due to ATV, or all-terrain vehicle accidents and over 700 people die. Common causes of these accidents include reckless driving, drunk driving, and rollover accidents.
It's important to follow the law, even on all-terrain vehicles. If not, injury can happen, or worse – death. If you or a loved one were involved in an ATV car accident, immediately contact a legal expert to help you evaluate your options.
Source: ABC 13, Click 2 Houston
Our deepest condolences go out to the families of the victims of this horrible incident. Please click the "Remove Post" link if you would like this post removed. REMOVE POST