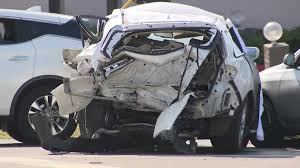 Houston, TX (5/5/2020) – A driver faces prison after driving while intoxicated and crashing into six cars and ten people at a Houston intersection.
The accident happened at a stopped light at Reed Rd. and Almeda Rd. The driver-at-fault came from behind the stopped cars and "did not appear to brake" before plowing into them.
As a result of the crash, one man was killed and seven others were injured, including a 2-year-old boy and a 6-year-old girl. Both children had significant injuries.
The driver-at-fault was taken to Ben Taub hospital, where an officer will accompany him until he recovers, and he'll be taken to jail. He may face intoxication manslaughter.
Crash investigators will review all factors that may have led up to the accident and police reports will be made available in fourteen days.
Texas Car Accident Attorneys
According to Texas Law, Intoxication Manslaughter involves an intoxicated driver that causes the death of someone else while they are behind the wheel. Because a man was killed and children were injured, and the driver is seen to be negligent while behind the wheel, it's important to seek legal assistance who handles cases of negligence and intoxication Manslaughter. An attorney can best represent you, negotiate settlements, and deal with insurance claims as you navigate your accident and personal injury recovery. If you or a loved one were involved in an accident, immediately contact a legal expert to help you evaluate your options. Call personal injury attorneys Sutliff & Stout at (713) 405-1263 or send us an email to discuss your car accident injury case.
Source: Click 2 Houston