Jefferson Davis Parish, Louisiana (7/12/2021) – A Texas woman was fatally killed in a four-vehicle wreck on I-10 in Louisiana.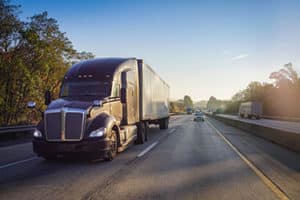 The accident happened shortly before 8:30 a.m. just west of LA Hwy 99 in Jefferson Davis Parish. A Freightliner 18-wheeler driven by 67-year-old Joseph Guillory was headed east on the highway during a rainstorm. He failed to control his speed as he approached congestion and struck the rear of a Hyundai Sonata, which then collided into a Hyundai Santa Fe. The 18-wheeler veered to the right and then struck the rear of a Mazda CX-5 SUV. 
The front seat passenger in the Mazda, 66-year-old Barbara Ann Nance of Pearland, was sent to the hospital with moderate injuries, where she later died.
The driver and the remaining occupants of the Mazda suffered moderate injuries.
Guillory and the other drivers suffered minor injuries.
Crash investigators will review all factors that may have led to the accident, and police reports will be made available in fourteen days.
Truck Accident Lawyers, Sutliff & Stout
Truck accidents are scary situations for any motorist; averaging a weight of 40 tons, 18-wheelers can cause great, catastrophic damage if involved in a wreck with another vehicle. Unfortunately, these accidents occur more frequently than we'd like. According to the NHTSA, 78% of fatal truck accidents occurred during the weekday in 2017.
Any type of motor vehicle accident has the potential to cause serious and life-changing injuries. However, accidents involving large commercial trucks or 18-wheelers have an especially high risk of resulting in catastrophic or even fatal injuries for many reasons. While it remains to be seen what caused the accident, we do know a woman is now dead because of it. 
In a major collision like this it is very important to hire an experienced truck accident lawyer to represent you if you were injured. Truck accidents can cause catastrophic injuries that require intensive medical treatment. Our experienced truck accident lawyers at Sutliff & Stout work tirelessly to get you the compensation you deserve. Call (713) 405-1263 and someone from our firm will be in touch with you to set up a free and confidential case evaluation.
Source: KADN
Our deepest condolences go out to the families of the victims of this horrible incident. Please click the "Remove Post" link if you would like this post removed. REMOVE POST