Harris County, TX (7/2/2021) – Three employees were left with burns after a pickup truck crashed into a food truck in Harris County Friday night.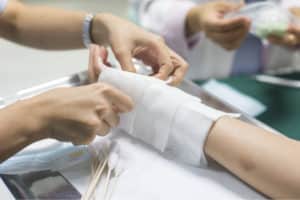 The accident happened around 10 p.m. at the intersection of Stuebner Airline Road and Louetta Road. A Main Chick food truck was selling to customers when a Ford ran a red light and crashed into the food truck. The food truck's propane was launched into the air. 
One employee fell into a fryer full of boiling hot cooking oil. She is now recovering from severe burns to her back. Two other employees also suffered burns on their backs, arms and limbs.
All three employees were sent to the hospital.
Crash investigators will review all factors that may have led up to the accident and police reports will be made available in fourteen days.
Burn Injury Lawyers
In the United States in 2009, thousands of people are killed every year due some type of fire related incident and significantly more people sustain burn related injuries. Many burn injuries and deaths in Houston, Texas are due to the carelessness or recklessness of others. Among some of the more common causes of burn injuries are: faulty wiring or plumbing, auto accidents, defective automobiles, unsafe workplaces, poorly maintained smoke alarms or residence lacking the devices, and defective products.
Burn and inhalation injuries are deadly and fatal for those who suffer from them. These injuries are expensive and can cost thousands to treat. First degree burns can take months to heal and third degree burns can take up to several years to treat. This can put a burden on the victim's time, money, and ability to live.
In the case above, three employees suffered sever burns due to hot oil. If you or your loved one were a victim of a burn injury due to negligence, it's important to contact legal assistance. The aggressive burn injury lawyers at Sutliff & Stout can protect you from further damage. We understand the taxing and tiresome process of healing and you shouldn't suffer through your burn injuries alone. For a free consultation, contact (281) 942-8694 and someone from our firm will be in touch.
Source: KHOU
Our deepest condolences go out to the families of the victims of this horrible incident. Please click the "Remove Post" link if you would like this post removed. REMOVE POST