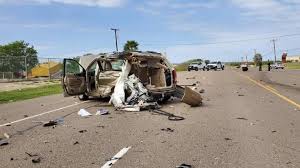 Zapata County, TX (12/11/2019) – Three people are injured after a two-vehicle crash occurred in Zapata on Sunday, December 1.
Just before noon, at US Highway 83 and 24th Ave., a Ford F-250 was traveling at high speeds on the northbound lane of Highway 83. A Hyundai Entourage was attempting to leave a restaurant parking lot when the Ford struck the Hyundai on its left side.
Three people were transported to a hospital via ambulance.
Crash investigators will review all factors that may have led up to the accident and police reports will be made available in fourteen days.
Investigators are looking into what may have cause the Ford to go at such high speeds. Investigators may bring in a device called an Engine Control Module, which stores data before, during, and after a crash. This will allow investigators to see how fast the Ford was going, as well as if the Ford braked at all before the impact occurred. In addition, data collected will prove essential and accepted as evidence in litigation.
If you or a loved one were involved in a car accident, it is important to contact a legal expert to help you evaluate your options. Call Houston auto accident attorneys Sutliff & Stout at (713) 987-7111 or send us an email to discuss your car accident injury case.
Source: KGNS