Anthony, TX (9/29/2020) – Three people were hurt Tuesday morning after a truck carrying a crane and construction equipment collided with a car along I-10.  According to a witness, the car suffered a blown tire that forced it into the path of the truck.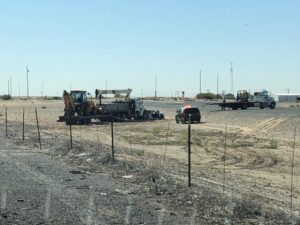 Three people were injured in the wreck, two of which were children. The two children were airlifted to area hospitals.
The other person was taken via ambulance to a local hospital.
According to the National Highway Traffic Safety Administration (NHTSA), around 2% of car accidents were caused by mechanical failure from 2005 to 2007, translating to about 44,000 car accidents. Of these accidents, the failure typically stemmed from faulty parts and inadequate maintenance. Regardless of the root cause, drivers can face life-threatening injuries or deaths in an accident caused by mechanical failure.
Tire failure is the leading cause of mechanical failure–related car accidents. The NHTSA reports that 35% of car accidents are caused by tire-and wheel-related issues.
Despite your best efforts to stay alert behind the wheel, there's not much you can do when a mechanical issue causes your crash. If you or a loved one has been seriously or catastrophically injured in a mechanical failure–related car accident, contact a compassionate Houston car accident lawyer at Sutliff & Stout to secure the compensation you're entitled to under Texas law.
Source: KVIA
Our deepest condolences go out to the families of the victims of this horrible incident. Please click the "Remove Post" link if you would like this post removed. REMOVE POST