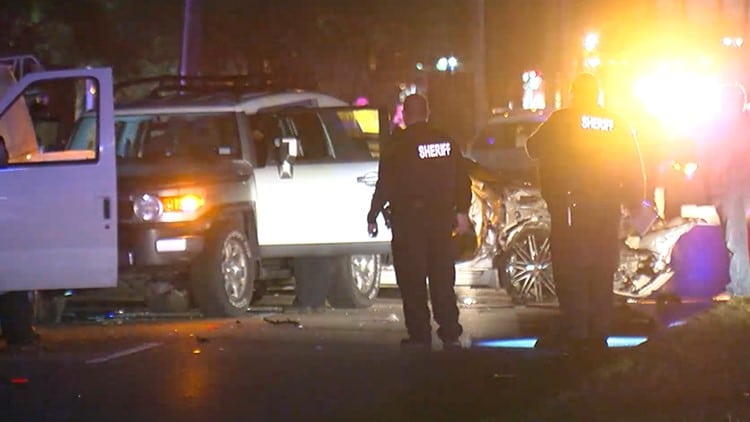 Houston, TX (1/27/2020) – Two people are injured after they got out of their car to help a stranded driver early Monday in northwest Harris County.
The accident occurred around 12:45 a.m. on Barker Cypress Road. According to deputies, three drivers stepped out of their vehicles to help a Nissan Altima that was stalled on the side of the road. That's when a Toyota Tundra attempted to drive around the four cars, but ended up hitting the three pedestrians and their vehicles. All three stopped cars had their hazards on.
One woman was thrown onto the hood of the pickup and landed in a ditch. She remains in critical condition at a local hospital.
Two other pedestrians were taken to a hospital for treatment of injuries. One of these victims is now considered brain-dead, according to report updates.
The driver of the Tundra, 26-year-old Zachary Castro, was reportedly intoxicated at the time of the crash. He is now charged with Intoxication Manslaughter and two counts of Intoxication Assault.
Sutliff & Stout Auto Accident Attorneys
At Sutliff & Stout our personal injury attorneys are guided by a singular belief: That access to competent legal representation is a fundamental right. Most personal injury cases and lawsuits involve drivers who operate on negligence. A negligent act is an omission of a duty to act responsibly. When this happens lives are at risk and sometimes even death occurs.
This is why it's important to seek legal counsel after an accident so as to be protected the best you can. At Sutliff & Stout, our Houston injury lawyers have the experience and resources to help you and your family during this difficult time. If you were injured during a car accident, call personal attorneys Sutliff & Stout at (713) 987-7111 or send us an email to discuss your case.
Source: Click 2 Houston, KHOU 11, FOX26
Our deepest condolences go out to the families of the victims of this horrible incident. If a family member would like the name of a person removed for any reason, please click the "Remove Post" link. REMOVE POST
Updated 1/29/2020