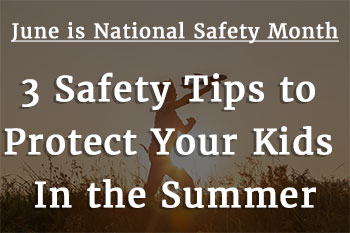 June is National Safety Month.
The National Safety Council focuses on reducing the leading causes of injury and death at work, on the road, and in our homes and communities.
Summertime means outdoor fun. This includes riding bikes, scooters, swimming, and tons of outdoor activities. However, the summer months are the most dangerous for children and teenagers as there is an intake in injuries.
If kids are active, there is a possibility they will get hurt. It may range from scrapes and bruises to fractures or a head injury.
Common incidents include falls, drowning, or fatigue that leads to physical instability or misuse of equipment that can cause harm.
Here are some helpful tips that will allow you and your family to have a safe summer.
Wear Protective Gear – When participating in contact sports and specific activities, it is essential to wear protective gear appropriate to that activity. Wearing a helmet whenever riding a bicycle, in-line skates, skateboard, scooters or hoverboards should be an automatic habit. Other protective gear includes gloves, wrist guards, knee guards, elbow guards are advised to prevent scrapes, fractures and head injuries.
Pool Safety – If you are at the swimming pool and a lifeguard is not available, assign an adult Water Guardian who is responsible for watching the children who are in, near, or around the pool. The Water Guardian's role is to prevent emergencies whereas a lifeguard is trained to rescue in the event of an emergency. Drowning is fast and silent. Always remain alert when children are in or near water.
Drink Plenty of Water – It is very important to remain hydrated while working, playing or participating in any outside activity. Avoid sugar, caffeine, and alcohol while in heat because it can cause dehydration. Symptoms of dehydration include fatigue, muscle cramping, and dizziness. By remaining hydrated it can prevent accidents, heat exhaustion, or heat stroke.
At Sutliff & Stout, we know how important your child's safety is to you.
Although it is impossible to keep children out of harm's way all the time, following these safety tips can help avoid serious injury.
It is important to have a conversation with your children on safety guidelines when they explore different environments.