Young County, TX (10/1/2020) – A fatal three-vehicle wreck left one dead and two injured in Young County.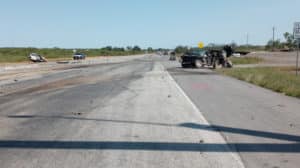 The accident happened around 12:45 p.m. Thursday afternoon on Highway 114 in Loving. A semi-truck pulling an empty trailer was headed eastbound on Highway 114 in Loving. A Toyota pickup headed northbound on Highway 16 failed to stop at an intersection and struck the semi on the passenger side. That led the semi to be pushed into traffic westbound on Highway 114, striking a Ford SUV in the process. The semi-truck then jack-knifed and came to rest on its roof in the south ditch of Highway 114.
The driver of the Toyota pickup was pronounced dead on the scene.
The driver of the SUV was airlifted from the scene to a nearby hospital. Their condition remains unknown.
The driver of the semi-truck received minor injuries and was not transported.
Crash investigators will review all factors that may have led up to the accident and police reports will be made available in fourteen days.
The actions between a semi-truck and a negligent driver driving a pickup truck resulted in a personal injury suffered by an SUV driver. Because of this deadly accident, the SUV driver has a right to file a personal injury claim against the individuals who caused the accident.
While getting behind the wheel is an everyday event, one wrong move can result in the worst day of someone's life. You can never be too careful on the road, and if something should happen, it's important to be vigilant and make sure you're represented in the best way you can. If you or a loved one were involved in a car accident, it is important to contact a legal expert to help you evaluate your options. Call Houston auto accident attorneys Sutliff & Stout at (713) 987-7111 or send us an email to discuss your car accident injury case.
Source: Texomas Homepage
Our deepest condolences go out to the families of the victims of this horrible incident. Please click the "Remove Post" link if you would like this post removed. REMOVE POST