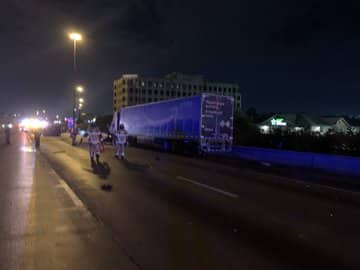 Houston, TX (4/10/2020) – A man jumped off Northwest Freeway and two babies survived a multi-vehicle crash that killed two women.
The car accident happened around 1:30 a.m. near I-45 and Rankin in north Houston. According to the Harris County Sheriff's Office, Anthony Alvarado was traveling with his family in a Lincoln Navigator towing a trailer. He was heading southbound when he realized he had a flat tire and was attempting to exit the freeway. A man driving a Mazda crashed into the SUV's trailer and ended up in the middle of the freeway. The driver of the Mazda and the SUV's passenger got out of their vehicles.
A driver of a Chevy Silverado, Tyler Vail, was approaching when he lost control of his vehicle trying to avoid the crash. Vail struck the wall and stopped in the middle of the freeway.
A witness, Abdullah Baidas, was driving a white Chevrolet SUV saw both accidents and stopped to help. Baidas noticed the Amazon 18-wheeler was approaching the scene when he jumped off the overpass to avoid being hit. Baidas suffered multiple fractures and had both of his legs amputated.
The driver of the Amazon semi-truck, Cody Munson, 56, hit all the vehicles involved and the two people who were standing in the road. The driver of the Mazda and the SUV's passenger was pinned under the 18-wheeler. They were pronounced dead at the scene.
The driver of the Mazda has been identified as Kedrick Conrad Cox.
Authorities believe that the SUV passenger is the mother of the children, but her identity has not been confirmed. 
The 1-year-old and 3-year-old were properly restrained in the Navigator. The children and the father suffered minor injuries and were taken to the hospital.
Wrongful Death Lawyers
The family of the victims may be entitled to a wrongful death claim based on the sequence events from the truck accident. A wrongful death claim can be filed against any person or company responsible for the death of the loved one. The family may be compensated for funeral expenses, medical costs, and emotional loss.
It is important to contact a wrongful death lawyer during a heartbreaking loss since they have the resources to help you. If you live in Houston and were involved in an accident, the experienced lawyers at Sutliff & Stout can help you understand how much your wrongful death lawsuit is worth. To schedule a free and confidential consultation about your wrongful death claim, please call our office anytime at (713) 987-7111.
Source: ABC 13, Click 2 Houston
Our deepest condolences go out to the families of the victims of this horrible incident. If a family member would like the name of a person removed for any reason, please click the "Remove Post" link. REMOVE POST
Updated 4/13/2020