Harris County, TX (7/25/2020) – Two children are injured after a car struck a stroller in Harris County Saturday afternoon.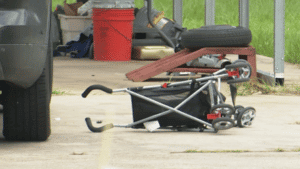 The accident happened in the Baytown area in the 7900 block of Wade Road. According to officers, a woman was backing the car off a power cord when she struck the stroller with the two children inside.
The children were taken to the hospital via Life Flight. Their injuries are not life-threatening and they remain in stable condition.
No other injuries have been reported.
According to a 1999 study from the CPSC, there were an estimated 6,348 stroller-related injuries inflicted on children under ages 10. All these children were treated in U.S. hospital emergency rooms. Children and vehicles are a deadly combination, especially if children are behind vehicles without a back-up camera. If a vehicle ends up backing into a child, the consequences can be deadly, much like the situation above.
If you or a loved one were involved in a car accident, immediately contact a legal expert to help you evaluate your options. Call car accident attorneys Sutliff & Stout at (713) 987-7111 or send us an email to discuss your car accident injury case.
Source: KHOU