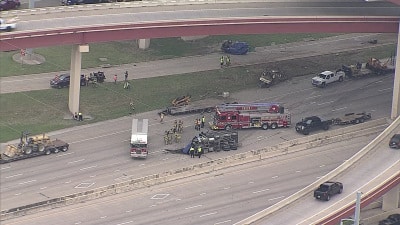 Plano, TX (5/21/2020) – U.S. Highway 75 was closed for hours after a multi-vehicle wreck left two dead in Plano Wednesday.
The accident happened around 4:00 p.m. and it involved a semi-trailer. The wreck occurred where U.S. 75 meets President George Bush Turnpike. It forced the closure of northbound U.S. 75 at State Highway 190.
No word remains on the victims or what vehicles were involved.
Crash investigators will review all factors that may have led up to the accident and police reports will be made available in fourteen days.
Truck Accident Attorneys
For crash investigations involving 18-wheelers, ECM's or Electronic Engine Modules will be brought in to examine how exactly the accident may have happened. ECM's have the ability to record every facet of data that occurred while the driver was driving the tractor-trailer. From documenting brake time to monitoring idle speed control systems, ECM's are proven to be vital evidence to every investigation.
If you live in Houston or the surrounding areas and were injured in an accident with a commercial truck or bus, call the truck accident lawyers at Sutliff & Stout today. Our experienced truck accident lawyers work tirelessly to get you the compensation you deserve. Text or call 713-987-7111 and someone from our firm will be in touch with you to set up a free and confidential case evaluation.
Source: NBC DFW